November 17, 2020 — Boston Scientific Corp. announced today it is immediately retiring the entire Lotus Edge transcatheter aortic valve replacement (TAVR) system. It also initiated a global, voluntary recall of all unused inventory of the Lotus Edge due to complexities associated with the product delivery system. 
The company said the recall is related solely to the delivery system, as the valve continues to achieve positive and clinically effective performance post-implant. Boston Scientific said there is no safety issue for patients who currently have an implanted Lotus Edge valve.
Given the additional time and investment required to develop and reintroduce an enhanced delivery system, the company has chosen to discontinue the entire Lotus product platform rather than spending additional resources on a new delivery platform. All related commercial, clinical, research and development and manufacturing activities will also cease.
"While we have been pleased with the benefits the Lotus Edge valve has provided to patients, we have been increasingly challenged by the intricacies of the delivery system required to allow physicians to fully reposition and recapture the valve," said Mike Mahoney, chairman and chief executive officer, Boston Scientific. "The complexity of the delivery system, manufacturing challenges, the continued need for further technical enhancements, and current market adoption rates led us to the difficult decision to stop investing in the Lotus Edge platform. We will instead focus our resources and efforts on our Acurate neo2 Aortic Valve System, Sentinel Cerebral Embolic Protection System and other high growth areas across our portfolio."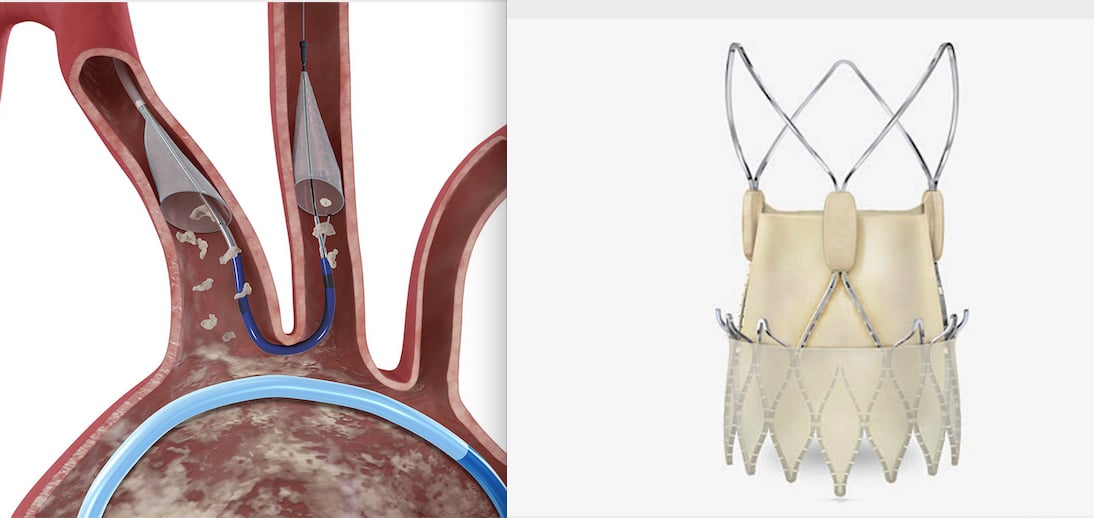 Boston Scientific said it will concentrate development efforts on its Acurate neo2 next generation TAVR valve system and the Sentinel Cerebral Embolic Protection System designed to help lower strokes caused by TAVR procedures.
Lotus was the Third TAVR Valve to Gain FDA Clearance But Lacked Wider Patient Use Indications
The U.S. Food and Drug Administration (FDA) cleared the Lotus Edge in April 2019, and it became the third TAVR valve to enter the U.S. market. 
However, being a late-comer to the market it did not have the same level of clinical experience as its computers, the Edwards Lifesciences Sapien 3 and the Medtronic CoreValve Evolut. While Lotus was just starting to find its way into U.S. hospitals in the summer of 2019 with an indication only for high-risk patients with severe, symptomatic aortic stenosis, CoreValve and Sapien both gained a new indication in August 2019 that expanded their use to low-risk patients. They already had indications for intermediate risk patients as well. The move effectively allows the use of these two TAVR valves in all patients with severe, symptomatic aortic stenosis.
Boston Scientific said the Lotus was designed to offer improved TAVR outcomes over Sapien and CoreValve. The biggest point of difference is that it was the only FDA-cleared aortic valve that gives physicians the option to reposition and completely recapture the valve once it has been fully deployed. It also featured a braided wire valve frame and an adaptive seal that minimizes paravalvular regurgitation or leaking (PVL) by conforming to the patient's native aortic valve.
However, operator experience with CoreValve and Sapien at high TAVR volume centers has greatly improved in recent years and been shown in clinical trials to offer better outcomes than the previous gold standard of surgical valve replacement (SAVR). While Lotus offered promising new technology, the existing valves were already entrenched in U.S. structural heart programs and offered more clinical experience and data than Lotus. Operators were also familiar with the Sapien and CoreValve delivery systems, which had gone through revisions to improve their performance.
According to the healthcare market research firm GlobalData, in 2019, once the device became commercially available, the company was able to capture a small amount of U.S. TAVR market share, about 1.5 percen. The company said this led to revenue of just under $30 million for the company in the U.S. alone. In the first three quarters of 2020, Boston Scientific's U.S. TAVR market share grew to 2.24 percent, bringing with it increased revenue, even in the face of the COVID-19 pandemic, according to GlobalData.
"However, the Lotus Edge device has faced issues in the past. In 2017, while the device was commercially available in Europe, Boston Scientific issued a voluntary recall over issues to do with its delivery system and locking mechanism," GlobalData said in a statment about the Lotus being pulled off the market. "The device returned to market later in the same year. However, Boston Scientific has indicated that the current global recall is permanent, with no plans to return the Lotus device to market."
Business Impact of No longer Selling the Lotus TAVR Valve Off the Market
This decision stop sales of the Lotus TAVR valve is expected to result in estimated total pre-tax generally accepted accounting principles (GAAP) charges of approximately $225 million to $300 million due to inventory, fixed asset, intangible asset and certain other exit charges, and approximately $100 million to $150 million of these charges will impact the company's adjusted results. The vast majority of these charges will be recorded during the fourth quarter of 2020. The decision is expected to be accretive to GAAP and adjusted earnings per share in 2021 by approximately one to two cents and neutral thereafter.
For more information: www.bostonscientific.com 
Related TAVR Content:
VIDEO: Tracking Transcatheter Valve Outcomes in the STS-ACC TVT Registry — Interview with John Carroll, M.D.
Boston Scientific Receives FDA Approval for Lotus Edge Aortic Valve System
FDA Approves TAVR for Low-risk Patients Creates A Paradigm Shift in Cardiology
TAVR Expected to See Rapid Growth in Next 5 years
Boston Scientific Launches Acurate neo2 Transcatheter Aortic Valve System in Europe
Acurate neo TAVR Valve Fails to Meet Noninferiority With Medtronic CoreValve Evolut
VIDEO: Interventional Structural Heart Advances Are Rapidly Expanding — Interview with Juan F. Granada, M.D.
Boston Scientific Launches Acurate neo2 Transcatheter Aortic Valve System in Europe
TAVR Non-Inferior to Surgery in U.K. Review of Surgery vs. TAVR
U.S. TAVR Outcomes Need Improvement Based on TVT Registry Analysis
---
If you enjoy this content, please share it with a colleague