A sample of the transcatheter mitral valve replacement (TMVR) devices in development or clinical trials.
The overwhelming success story for transcatheter aortic valve replacement (TAVR) moving from a science project to becoming the standard of care in just a decade had generated excitement and hopes for similar success with transcatheter treatments for mitral regurgitation.
Mitral regurgitation (MR), also called mitral insufficiency or mitral incompetence, is a serious heart condition wherein the heart's mitral valve does not close properly and blood flows backward in the heart. Treatment is usually unnecessary for a mild leakage, however, treatment is necessary in case of a significant regurgitation. As with TAVR, the new transcatheter mitral valve replacement and repair (TMVR) technologies on the market or being developed are first being used to treat the sickest, most severe MR cases. 
MitraClip Currently the Only FDA Cleared Repair Device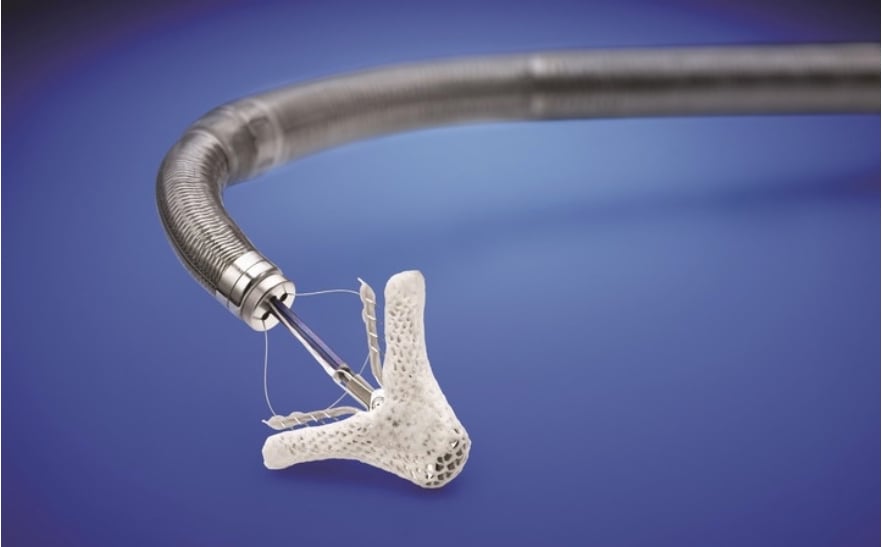 TMVR is currently used in patient who are unable to undergo surgery because they are considered too high risk for surgery. TMVR provides a minimally invasive option to mitral valve regurgitation. Presently, there is just one available U.S. Food and Drug Administration (FDA)-approved repair device — the Abbott MitraClip.
The MitraClip mimics a surgical suture repair to create a double orifice by clipping together the middle segments of the posterior and anterior mitral valve leaflets. This increases the coaptation between the regurgitant valve leaflets and reduces MR. In some cases, a second clip may also be required. The cobalt chromium clip device is covered in a polypropylene fabric to enable endothelialization. 
The FDA first approved the MitraClip in 2013 with an indication for patients exhibiting symptomatic degenerative MR. In July 2018, the FDA cleared a next-generation version of the device, equipped with enhanced steering, navigation and positioning capabilities, making it easier for cardiologists to use the device for difficult anatomies. It also enabled better placement during deployment and offers a second clip size as well, designed with longer arms to help doctors treat complex anatomies during mitral valve repair.
In March 2019, the U.S. FDA expanded MitraClip's indications to address the secondary MR after the great results from the COAPT Trial. It targeted patients who developed functional (secondary) mitral regurgitation because of diminished left heart function. This includes patients whose mitral valve is functioning normally, but structural changes in the heart (such as enlargement due to heart failure) no longer allows computation of the mitral leaflets. The indication includes heart failure patients with secondary MR whose symptoms were not resolved using optical medical therapy.
Recently in July 2019, the FDA gave the green light for the fourth generation of the device, the MitraClip G4. This version adds more flexibility with four unique clip sizes, a wider grasping area. It also has independently controlled grippers, so if one leaflet is engaged and the other is not, or not engaged properly, one side can be opened and closed to capture the second leaflet while leaving the other side clipped. 
Transcatheter Mitral Valves Working Toward Market Clearance
While the Mitraclip is the currently the most preferred device to transcatheter repair of mitral valve regurgitation, two other companies are working toward regulatory market clearances. These include the Neovasc Inc. Tiara and the Edwards Lifesciences' Fortis fully implantable transcatheter mitral valves.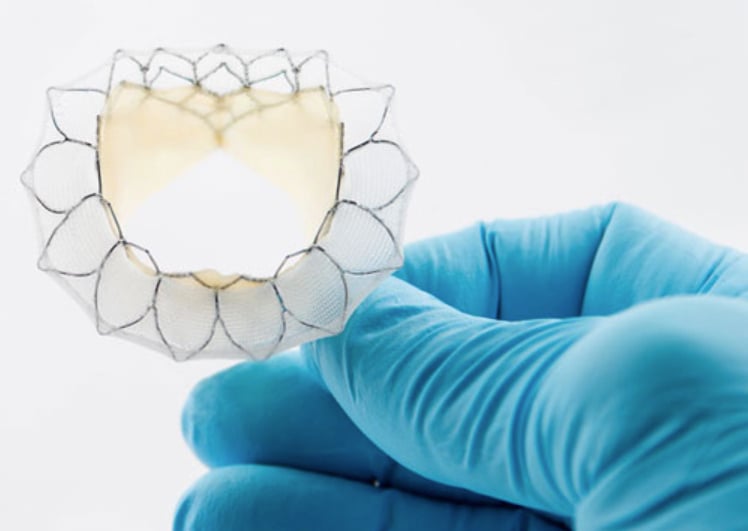 Neovasc's Tiara device uses bovine pericardial tissue leaflets mounted on a self-expanding frame. It has a fabric-covered skirt to seal the annulus and prevent paravalvular leak. It uses two anchoring tabs to engage the native valve. Also, the Tiara is the first transcatheter mitral valve that has received a conditional investigational device exemption (IDE) approval from the FDA to initiate an early feasibility trial.
In February 2014, Neovasc announced the first successful human implantation of its Tiara transcatheter mitral valve. The transapical procedure, performed at St. Paul's Hospital in Vancouver, British Columbia, Canada, led to the successful elimination of MR and helped improve heart function in the patient, sans procedural complications.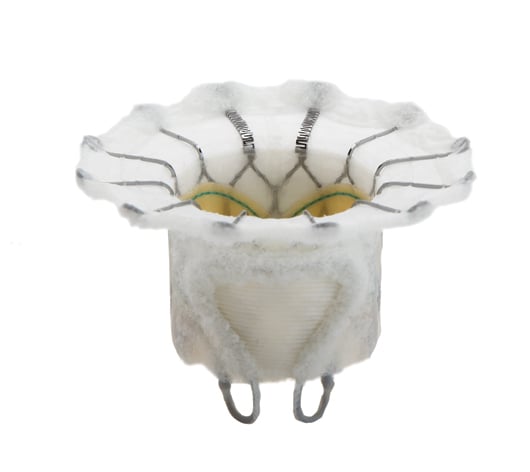 The Edwards Fortis mitral transcatheter heart valve uses a self-expanding frame covered with a cloth to reduce paravalvular leak. It uses an anatomical anchoring system and has bovine pericardial tissue leaflets. The valve is delivered with a sheathless delivery system and has folding paddles at the base that clip the native mitral valve leaflets. 
Fortis's first human trial commenced in August 2014, but it was temporarily halted in March 2015. The enrollment interruption was due to evidence of valve leaflet thrombosis formation. However, similar leaflet thrombosis formation has since been found on all types of artificial valves, surgical and transcatheter, and it has been determined to be benign. 
The Fortis valve is not approved for sale in any country.
Other Companies Developing TMVR Technology
Numerous companies have initiated clinical trials to explore further advancements in transcatheter MR treatments apart from Mitraclip. A couple of these are mentioned below.
Medtronic  Intrepid TMVR System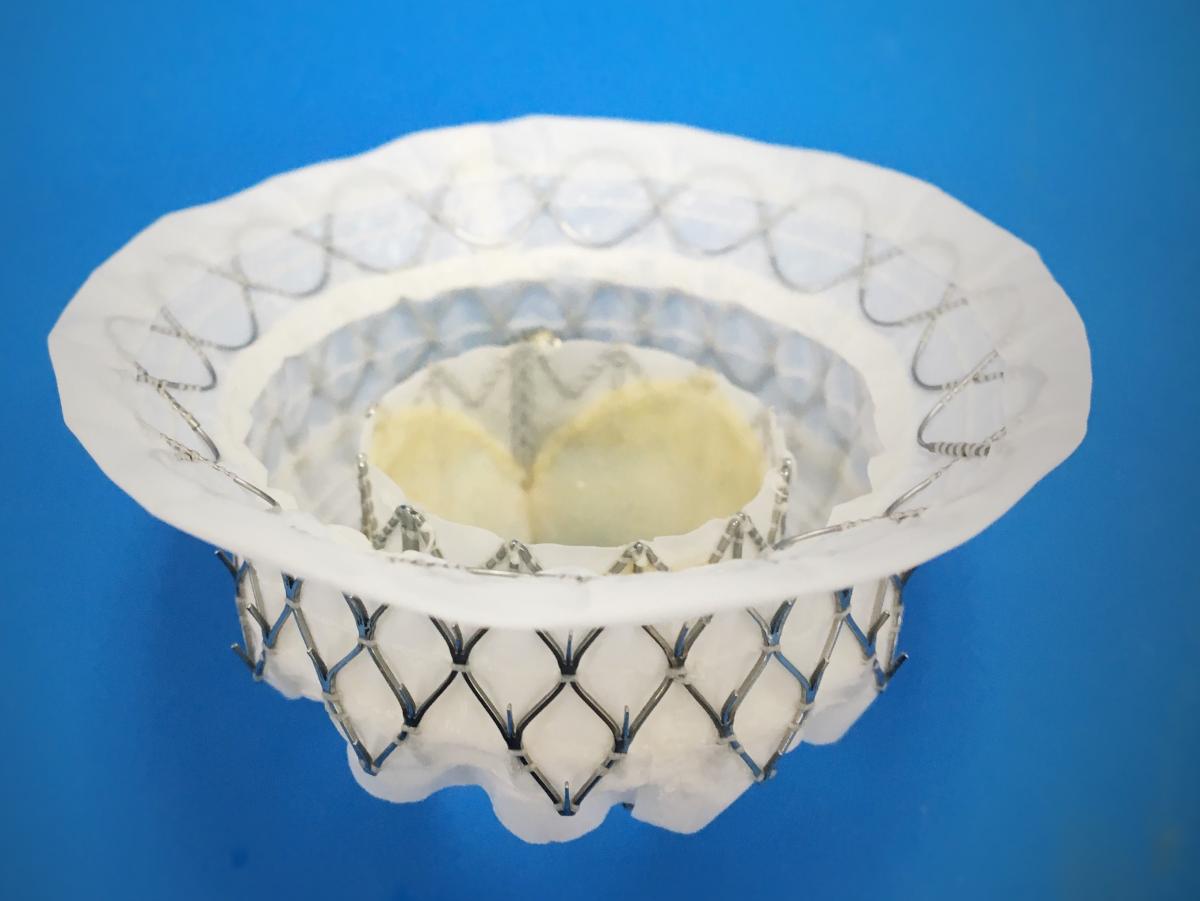 In October 2017, Medtronic announced the first patient implant in the pivotal APOLLO Trial evaluating the Intrepid TMVR system. The study plans to analyze the safety and efficacy of the Intrepid system in up to 1,200 patients with severe, symptomatic MR. The results are expected no earlier than 2021.
In February 2019, Medtronic announced the FDA approved an early feasibility study for the Intrepid system using a transfemoral access approach. 
Abbott Tendyne TMVR Device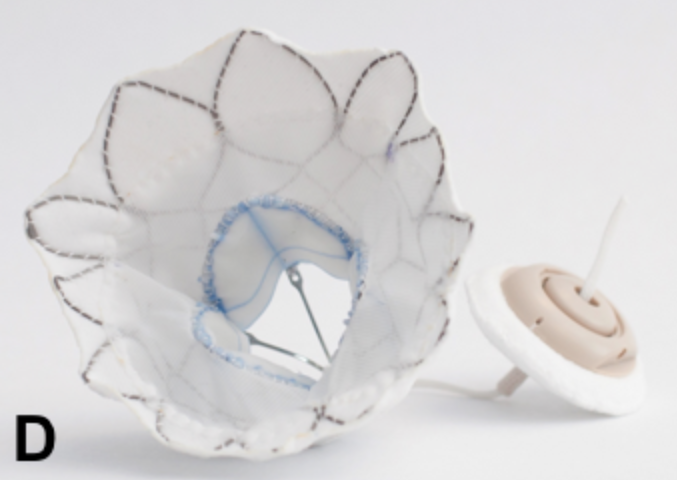 In July 2018, Abbott initiated the Treatment of Symptomatic Mitral Regurgitation (SUMMIT) clinical study in the U.S. for its Tendyne TMVR system. It is a transcatheter mitral valve designed to treat MR without the need for open-heart surgery. Abbott will use the SUMMIT data for a market clearance submission to the U.S. FDA. The Tendyne device allows repositioning and retrieval, enabling more accurate device placement during implantation for better outcomes.
In September 2019, Abbott commenced a FDA investigational device exemption (IDE) trial to evaluate the its TriClip transcatheter tricuspid valve repair system in the treatment of severe TR (tricuspid regurgitation). This investigational device is a version of the firm's MitraClip system. Read more about the TriClip device.
Edwards Lifesciences Pascal system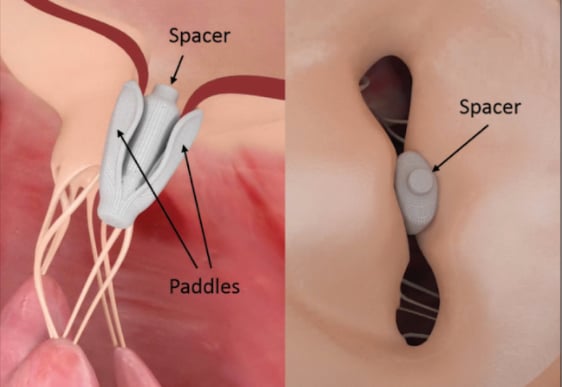 In May 2019, Edwards Lifesciences presented data from the CLASP study of the Pascal system, which depicted that patients enrolled in the CLASP study with clinically significant MR despite optimal medical therapy showed sustained positive outcomes at six months.
The FDA also approved the CLASP IIF, a multicenter, randomized, prospective, pivotal trial studying the the safety and effectiveness Pascal system compared with the MitraClip for moderate-to-severe/severe functional mitral regurgitation (FMR) in patients with symptomatic heart failure. The study may begin enrolling in the next few months.
In yet another milestone, Edwards already has patients with symptomatic primary mitral regurgitation enrolling in the CLASP IID U.S. pivotal trial.
As a stop-gap until availability of a true TMVR device, the FDA cleared the use of the Edwards Sapien 3 TAVR valve for valve-in-valve mitral replacement procedures. The Sapien also is used off-label by some hospitals as a humanitarian, last-resort transcatheter mitral valve treatment in high-risk patients who are not surgical valve replacement candidates. However, use of the Sapien in this valve position can pose risks due to potential left-ventricular outflow tract (LVOT) obstruction because of how low it can hang into the left ventricle. 
Mergers and Acquisitions to Rapidly Build TMVR Portfolios
Many other companies are conducting clinical trials of TMVR devices. Some TMVR contenders are also deploying industry-centric tactics, such as mergers and acquisitions in order to expand their product portfolios. Here is a chronology of a few strategic moves by major companies that have underlined transcatheter heart valve replacement market.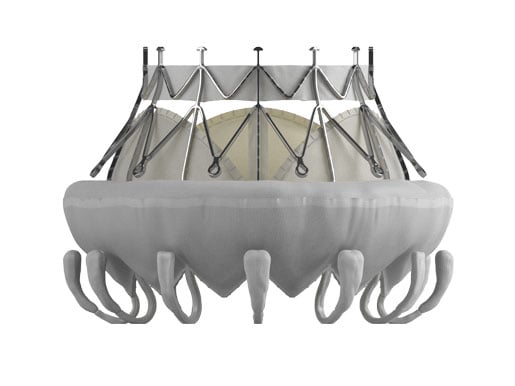 In July 2015, Edwards Lifesciences acquired CardiAQ Valve Technologies for $400 million, after the company received an FDA approval in April for an early feasibility trial of its second-generation transcatheter mitral valve implant.
Medtronic acquired Twelve for for $458 million in 2015. The start-up company developed a transcatheter mitral valve device.
In January 2018, Boston Scientific purchased the start-up company Millipede, which developed the IRIS transcatheter annuloplasty ring system to treat FMR.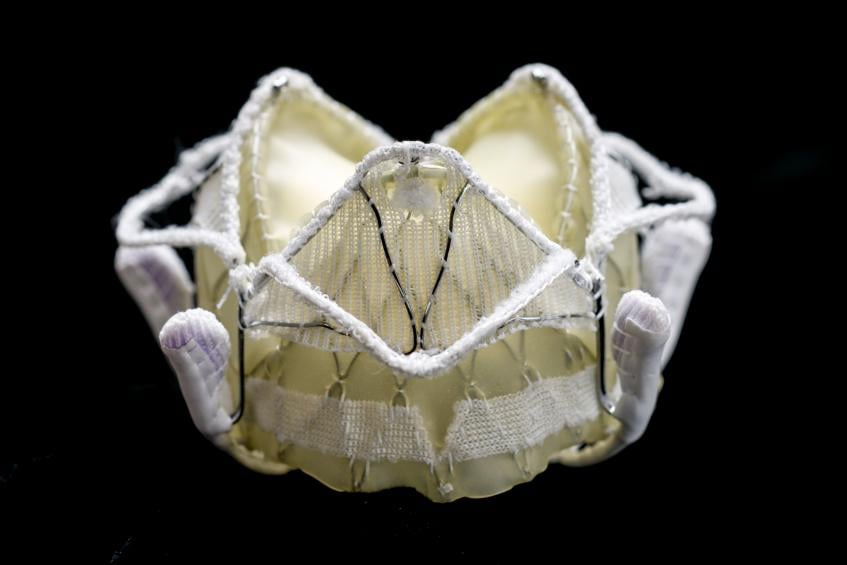 In August 2018, LivaNova, the merged entity formed between Cyberonics and Sorin Group in 2015, concluded its PRELUDE feasibility study for the Caisson TMVR system. Following the positive patient outcomes from PRELUDE, the company said it was going to focus on enrolling patients in the INTERLUDE CE mark trial and was finalizing the protocol for its U.S. pivotal trial, ENSEMBLE. The Caisson TMVR system is designed to treat moderate to severe MR with a transseptal approach.
In September 2018, Israeli cardiovascular device developer Cardiovalve launched the Cardiovalve transfemoral mitral valve replacement system's Ahead US and Ahead EU multicenter studies. The company plans to begin enrollment soon and will follow patients until the end of 2021. 
The company 4C Medical Technologies Inc. announced in September 2018 its AltaValve device was awarded the first place in the CRT (Cardiovascular Research Technologies) technology competition.
In January 2019, medtech company HighLife SAS received 32 million Euros in funding to develop its transcatheter transseptal MV implantation program. This includes a U.S. early feasibility study, as well as regulatory approval trials in Europe to obtain the CE mark.
Abbott announced plans in January 2019 to purchase Cephea Valve Technologies Inc., which developed a transcatheter mitral valve system.
In November 2019, Mitre Medical announced it had provided the FDA with sufficient data to commence a clinical study to evaluate the safety and performance of the Mitral Touch System to treat mitral insufficiency.
Neovasc planned to provide an update on its TF/TS (Transfemoral Transseptal) Tiara transcatheter mitral valve system at the PCR London Valves 2019 meeting. The Tiara has been delivered transapically, but this new TF/TS program is designed to show the device can be delivered in a less invasive manner. Neovasc is working on five experimental design studies for this system so it can reach a design freeze by the end of 2019, with a small clinical feasibility study planned for late 2020.
TMVR LVOT Obstruction Complications
The anatomy of the mitral valve is a challenge and can lead to complications, due to its small annual landing zone and its close proximity to the aortic valve's left ventricular outflow tract (LVOT). TMVR valves require a different design than TAVR valves because the longer body of the Sapien valve, when used in the mitral position, hangs into the left ventricle. This causes LVOT obstruction, which can lead to poor outcomes and death. LVOT obstruction also can be caused by the native valve leaflets being propped in the open position when a transcatheter mitral valve is implanted. Companies have kept this complication in mind when developing mitral valve specific devices.
Researchers at the National, Heart, Lung, and Blood Institute (NHLBI, part of the NIH (National Institutes of Health), recently developed an innovative technique to prevent the obstruction of blood flow in the LVOT by cutting the native valve leaflet, enabling TMVR in a larger portion of patients. The LAMPOON procedure uses an electrified wire to split the mitral leaflet prior to TMVR implants. 
The LAMPOON study enrolled 30 patients between June 2017 and June 2018, and close to 93 percent patients were reported to have reached the 30-day survival mark. The method may increase treatment options for high-risk patients.
Transcatheter Valve Anchoring to the Mitral Annulus
Another major limitation of TMVR is the unequal tension on the mitral annulus when deploying coronary sinus reshaping devices. It is important to understand the complex anatomy of the mitral valve annulus and its close proximity to the LVOT for preprocedural evaluation of TMVR. Valve anchoring to the annulus in TMVR demands accurately measurements of the native mitral valve annular size to ensure an impacted valve does not embolize. However, providing these measurements can be challenging since the mitral valve annulus has a saddle-shape and is a nonplanar structure, as opposed to the aortic valve annulus. A 2017 study suggests using a "D" shaped annulus for planar measurements, however, this annulus is not always compatible with the shape of the device.
To solve this issue, the CardiAQ valve is equipped with two sets of anchors that grasp the leaflets from the left ventricle and left atrial side to anchor the prosthesis. A clamping action from the foreshortening of the self-expanding frame also helps anchor the valve both above and below the annulus.
Neovasc's Tiara also has an atrial portion that fits perfectly to a saddle-shaped mitral annulus, where the "D" shape matches the shape of the mitral orifice. Tiara's ventricular portion uses three anchoring structures — one behind the posterior MV leaflet and two anterior anchors to capture the fibrous trigones beside the anterior MV leaflet. This three-point anchor operates in tandem with the atrial flange to securely fix the prosthetic valve within the mitral annulus.
Mitral Valve Replacement vs. Aortic Valve Replacements
The number of mitral valve surgeries across the globe are on rise owing to increase in prevalence of mitral valve disorders such as MR, mitral stenosis, infectious endocarditis and mitral valve prolapse. Mitral valve surgeries accounted for around 58 percent of the total mitral and aortic valve surgeries in 2018 and are projected to account for more than 62 percent by the end of 2025. While TAVR was the first therapy to successfully treat a heart valve, because of the higher procedural volume, TMVR is expected to have a much larger impact on the market.   
Mitral valve regurgitation is considered to be the major reason for growing number of mitral valve procedures across the globe. As per the recent research article, the prevalence of MR is around 7 million in the U.S. and 9 million in Europe. Also, in the U.S., more than 250,000 people are diagnosed with MR every year. 
Mitral stenosis in the geriatric population is a complex and is an evolving pathological entity. The prevalence of chronic rheumatic heart disease and degenerative calcific etiology is increasing across the globe, and has resulted in large number of people suffering from mitral stenosis. Statistics published by the Euro Heart Survey show mitral stenosis represents around 12 percent of all the valvular diseases. 
Rapid product approvals by the U.S. FDA and European Union Medical Device Regulation will also be a major factor responsible for the market growth. Regulatory agencies and healthcare payers look favorably on minimally invasive therapies because of the reduced number of complications and shorter length of stay in the hospital, which helps reduce healthcare costs
In the forthcoming years, TMVR and TAVR are both expected to gain a large amount of traction. Several experts speaking at the Transcatheter Cardiovascular Therapeutics (TCT) 2019 meeting said TAVR will see rapid growth with recent FDA approved indication for use in all surgical risk patient types. By 2025, it is expected 75 percent of aortic procedures will be performed using TAVR. The American College of Cardiology/Society of Thoracic Surgeons (ACC/STS) Transcatheter Valve Registry has already shown the number of TAVR procedures performed in the U.S. surged to 24,808 in 2015 from 4,627 in 2012. There are similar expectations for TMVR provided the clinical data for devices continued on positive trends similar to TAVR. 
 
Global Market Insights Inc. has a market report dedicated to global TMVR, at: www.gminsights.com/industry-analysis/transcatheter-heart-valve-replacement-market
About the author: Saipriya Iyer is a content developer for Global Market Insights. (GMI). Iyer holds a rich experience portfolio of more than five years in the content creation and has substantial expertise across the business, technology and finance domains.
Related TMVR Content:
The Emory Angle Can Help Eliminate Paravalvular Leak in Transcatheter Mitral Interventions
VIDEO: Interventional Structural Heart Advances Are Rapidly Expanding — Interview with Juan F. Granada, M.D.
Developments in Transcatheter Mitral Valve Replacement
Top 10 Takeaways on Interventional Technologies at TCT 2020
What is New in Cardiology? A Review of All Major Emerging Technologies for Heart Diseases