A key slide from the TRILUMINATE study one-year results showing the improvement in tricuspid regurgitation from basement with treatment using the transcatheter TriClip device.
November 26, 2019 — The preliminary one-year results of the TRILUMINATE Pivotal Study for Abbott's TriClip device, a technical iteration of MitraClip, was found to be safe and effective for edge-to-edge transcatheter repair of tricuspid regurgitation (TR).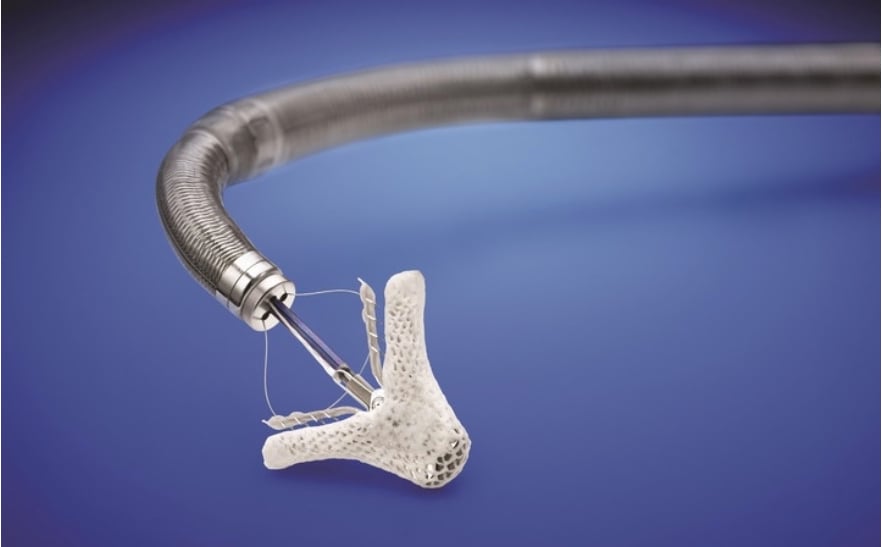 The data was shared during a late-breaking session at London Valves by Professor Georg Nickenig, lead investigator of the study and chair of Internal Medicine and Polyclinic II at the University of Bonn, Germany, presented findings. Data show a TR reduction of at least one grade in 87 percent of patients with symptomatic or greater TR and improvements in quality-of-life. 
The study also found low major adverse event rates at 1 year, with no new device-related events after 30 days. There was a significant improvement in NYHA heart failure class I/II (22% to 80%), KCCQ (16.8 points) and 6-minute walk (33.1 meters) persisted at one year. 
Nickenig said at the reduction of TR was associated with significantly decreased right ventricular (RV) dimensions, suggesting positive remodeling, with significant improvement in RV function.
The proportion of subjects with moderate or less TR increased from 4 percent at baseline to 54 percent at 30 days, and 64 percent at one year, indicating a durable TR repair, Nickenig explained. 
Continued improvements in NYHA functional class from 30 days to 1-year.
The TriClip is a version of the MitraClip used for transcatheter mitral valve repair (TMVR) to resolve mitral regurgitation. A post hoc registry analysis of MitraClip use for TR has indicated TR reduction and improved clinical outcomes out to one year.[1,2,3]
The Current Standard of Care for Tricuspid Regurgitation 
Tricuspid regurgitation (TR) is a frequent disease with poor prognosis. Treatment for TR is currently limited to the use of diuretics and high-risk surgical procedures. Nickenig said minimally invasive catheter-based procedures (such as TriClip) may reduce TR with low procedural risk.
Investigators in the TRILUMINATE Trial include Georg Nickenig, M.D.; Marcel Weber, M.D.; Phillip Lurz, M.D.; Paul Sorajja, M.D.; Jörg Hausleiter, M.D.; Marta Sitges, M.D.; Paolo Denti, M.D.; Jean-Noël Trochu, M.D., Ph.D.; Michael Nabauer, M.D.; and Rebecca T. Hahn, M.D.
Related TriClip and TRILUMINATE  Content:
Abbott Launches Pivotal Trial of TriClip Tricuspid Valve Repair System
Abbott Tricuspid Valve Repair System Reduces Tricuspid Regurgitation at 30 Days
VIDEO: Tricuspid Valve Imaging and Interventions Developing Hand-in-hand — Interview with Rebecca Hahn, M.D.
Advances in Transcatheter Tricuspid Valve Technologies
VIDEO: Tricuspid Device Clinical Trial Overview — Interview with Ori Ben-Yehuda, M.D.
Abbott Initiates First Clinical Trial of Clip-Based Tricuspid Repair System
Minneapolis Heart Institute Foundation Enrolls First Patient in TRILUMINATE Tricuspid Repair Trial
References:
1. Nickenig G et al.,Transcatheter Treatment of Severe Tricuspid Regurgitation With the Edge-to-Edge MitraClip Technique. Circulation. 2017;135(19):1802-1814.
2. Mehr M et al., 1-Year Outcomes After Edge-to-Edge Valve Repair for Symptomatic Tricuspid Regurgitation. JACC Cardiovasc Interv. 2019;12(15):1451-1461.
3. Besler C et al., Predictors of Procedural and Clinical Outcomes in Patients With Symptomatic Tricuspid Regurgitation Undergoing Transcatheter Edge-to-Edge Repair.JACC Cardiovasc Interv. 2018;11(12):1119-1128.
---
If you enjoy this content, please share it with a colleague