More complex, longer interventional procedures such as structural heart interventions or this revascularization of a coronary chronic total occlusion (CTO) at Henry Ford Hospital in Detroit, requires angiography imaging systems that have improved image detail and lower radiation dose. However, purchase of new systems was put on hold by many hospitals in 2020 due to the sudden drop in elective procedures and diversion of resources due to the COVID-19. Photo by Dave Fornell.
January 19, 2021 – With the postponement of non-essential elective surgeries and medical procedures in 2020 to conserve medical resources for COVID-19 patients during the start of the pandemic, cardiovascular procedures were severely impacted. The increased costs of caring for COVID patients, personal protective equipment (PPE) and the loss of elective procedure revenue caused a massive financial burden on healthcare providers. This is expected to result in reduced capital expenditure budgets for imaging equipment, including interventional angiography imaging systems and surgical mobile C-arm X-ray systems
The world markets for these imaging systems are estimated to have declined by 17.4% for cath lab angiography systems and 16.3% for surgical mobile C-arms in 2020, according to a new report from Signify Research.
However, growth in this market is predicted to return from 2021 onwards as the negative impact of the pandemic is expected to subside. Recovery is forecast to be gradual rather than "V shaped," with the steady return of elective procedures and as healthcare expenditure is restored following the diversion to COVID-related equipment.
From 2021 onwards, there is expected to be pent-up demand for both interventional and surgical X-ray systems. The market for cath lab angiography/fluoroscopy systems systems and and mobile C-arm fluoro systems is expected to reach almost $3.9 billion by 2024.
Market Trends in Interventional Angiography Systems
Within the interventional X-ray market, interventional cardiology (IC) was more negatively impacted by COVID-19 than interventional radiology (IR) due to heavier reliance on elective procedures. An increase in the number of structural heart procedures performed and elective percutaneous coronary interventions (PCI) continues to be a factor maintaining clinical demand for the IC market. 
While PCI procedures are assumed to be critical in treating acute myocardial infarctions (MI), only a small amount of PCI procedures performed on patients were for these life-threatening conditions. The rest of the PCI procedures are considered as "elective procedures," and a large number were deferred during the pandemic. Globally, hospitals saw a decline in cardiovascular procedures. This also includes fewer critical MI PCIs because patients are afraid to go to the hospital and contracting COVID, so many times are ignoring heart attack symptoms.
The IR market has experienced a continued expansion of clinical procedures being performed. An increased incidence of peripheral vascular disease (PAD) is driving demand for general vascular angiography. Despite an estimated 26% drop in the hybrid operating room segment in 2020, fastest growth is predicted for this product category through to 2024.
The pandemic is having a negative impact across all interventional markets (including IC and IR), due to a combination of reduced vendor sales activity (on-site demonstrations, new product launches, conferences) and plummeting elective procedure volumes during national lockdowns.

Mobile C-arm Product Trends
Demand for image intensifier mobile C-arms was less impacted than for FPD equivalents in 2020 due to COVID-19, as providers focused on cost-effective equipment due to reduced capital budgets.
In the surgical X-ray market, flat panel detector (FPD) 2-D mobile C-arms are forecast to have the fastest growth through to 2024, with a compounded annual growth rate (CAGR) of 3.4%. In 2020, there was a shift towards low-end to mid-range FPD 2-D systems as a result of stretched capital expenditure budgets. Demand for image intensifier systems is slowing down, with the key markets now in the emerging market regions of the world. However, in developed markets, such as the United States, usage of imaging intensifier systems is still high in pain management clinics. 
3-D mobile C-arms are primarily used for imaging the joints, spinal fusion and fractures and the market is expected to start seeing signs of recovery from 2021 onwards, following the return of elective spinal procedures to pre-pandemic levels. Countries with the highest adoption of 3-D surgical X-ray imaging include China, Western Europe and the United States.
Key Regional Trends in Interventional Imaging Systems
North America: The North American market has been significantly impacted due to postponement of non-critical surgeries, and as budgets for non-diagnostic X-ray equipment were diverted to COVID response. The North American market will be driven by replacements of existing equipment and increasing demand from outpatient clinics and facilities.
Latin America: Brazil has been one of the worst impacted countries globally by COVID-19, resulting in a severe market retraction for both the interventional and surgical X-ray markets in 2020.
Western Europe: The Western Europe market is forecast to experience pricing pressures from 2020 onwards, with the economy suffering as a result of high COVID-19 impact. Recovery is expected to be steady and gradual through to 2024 as economies struggle with the impact of the pandemic.
Eastern Europe, Middle East and Africa: The Saudi Arabia-Russia oil price war and the COVID-19 pandemic have further setback the prospects of a recovery and the market is forecast to sharply decline in 2020 by 20.1%. Postponement of elective procedures contributed to the huge drop in demand in 2020.
Asia Pacific: The Chinese market has had one of the quickest recoveries from the COVID-19 pandemic globally, with a forecast contraction of high single digits in 2020 for the surgical X-ray market. Demand for hybrid operating rooms and 3-D mobile C-arms is high in China, mainly in high-end hospitals.
Here are some additional insights on the market from Signify: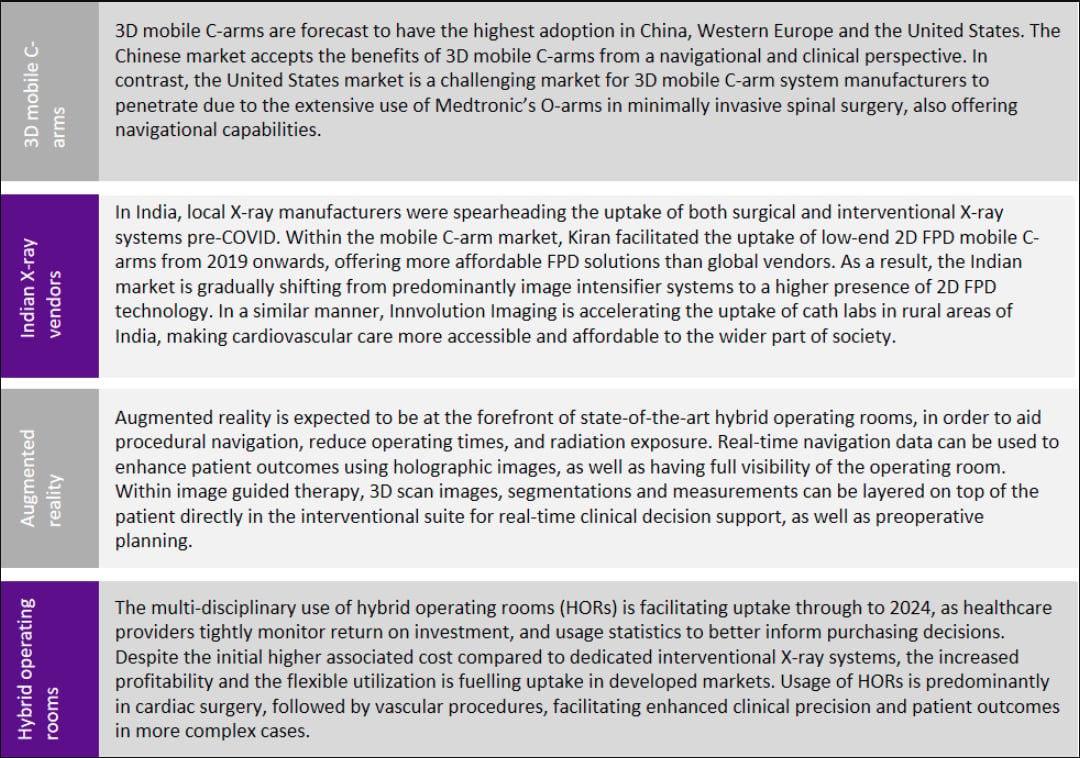 About the Author: Bhvita Jani is a senior market analyst at Signfy Research. She is part of the medical imaging team focusing on the X-ray market. She brings with her 3 years' experience covering X-ray, MRI and CT research at IHS Markit. She previously worked as an assistant clinical psychologist. She received her bachelor's degree in biology and psychology from Aston University. Signify is a healthcare market research firm based in the U.K.  For more information: www.signifyresearch.net
Related Interventional Angiography System Content:
Angiography Systems Comparison Chart
7 Trends in Interventional Lab Angiography Systems
360 View of a Cath/EP Combo Lab at Baylor Heart Hospital Dallas 
Dose-Lowering Practices for Cath Lab Angiography
Canon Medical Offers New Affordable Interventional Technology
VIDEO: Walk Through of the Henry Ford Hospital Structural Heart Cath Lab
Recently Introduced Angiography Imaging Technology
360 Degree View During a CTO Case at the University of Colorado Hospital
VIDEO: Reducing Cath Lab Radiation Dose at Henry Ford Hospital
Philips Developing X-ray Free Cath Lab Imaging to Replace or Supplement Angiography
Medical Imaging Radiation Levels in U.S. Dropped Over Past Decade
 
---
If you enjoy this content, please share it with a colleague