MRI-compatible ICDs is a growing trend in the market. This example is Biotronik's Lumas 740 ICD.
This is a brief overview of updates on implantable cardioverter defibrillators (ICD), including new technology introductions, advancements to mitigate patient risks and ICD controversies. 
The biggest trends in ICD technology have been a movement to smaller devices, simplified implantation, and reducing or eliminating leads implanted in the veins or the heart. The U.S. Food and Drug Administration (FDA) also has certified numerous ICDs as magnetic resonance imaging (MRI)-safe with MR-conditional labeling, to allow patients with ICDs to undergo MRI scans. New software is helping increase battery life, reduce unnecessary shocks and better monitor heart failure patients to prevent acute hospitalizations. Use of antibacterial envelopes was also recently shown to reduce ICD infection risk.
ICD controversies include heightened FDA concerns about ICD cybersecurity, recent data showing ICD implantation disparities based on race and gender, the safety of ICD patients being scanned at airport security checkpoints, a high percentage of patients who meet ICD guidelines but are not receiving them, and patients who do not qualify for ICDs but are receiving them. These issues and new technologies are all detailed in the sections below. 
Advancements in Subcutaneous ICD Technology
One issue with ICDs is the need to implant transvenous leads, which come with their own set of complications including infection risks, more invasive procedures and potential obstruction of the vessels as the leads become encased in scar tissue. This last point also makes the leads difficult to remove if and when they need to be replaced. This has led to the development of subcutaneous ICDs that instead place the leads under the sternum and leave the venous system untouched.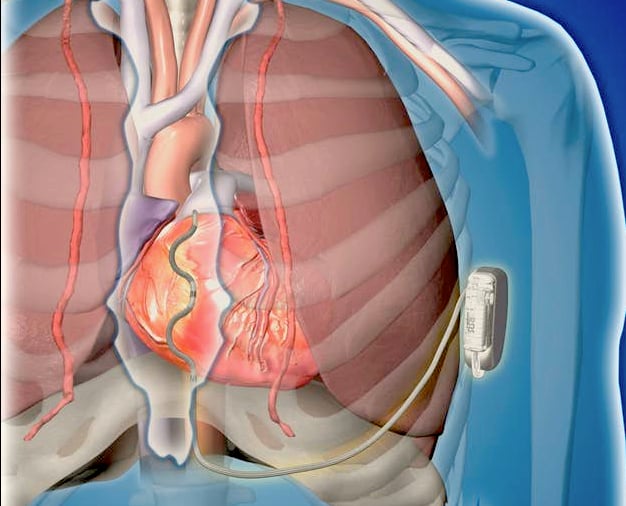 The FDA cleared the first subcutaneous ICD a few years ago, Boston Scientific's Emblem S-ICD. Medtronic is now developing a subcutaneous ICD which it called the Extravascular (EV) ICD system. First-in-human pilot study data on 21 patients was presented as a late-breaking trial at the Heart Rhythm Society's 2019 meeting. It showed no major complications and was able to sense, pace and defibrillate the heart. The EV ICD system was designed to provide the same benefits of traditional transvenous ICDs, including lifesaving defibrillation, anti-tachycardia pacing to terminate arrhythmias, post-shock pacing to protect from sudden cardiac arrest and temporary back-up bradycardia pacing. It is the same size (33 cc) and shape as traditional ICDs. The EV ICD device is implanted in the left mid-axillary region below the left armpit, and the lead is placed under the sternum. 
"I am very encouraged by our pilot experience using the Medtronic EV ICD system in patients out to three months," said Ian Crozier, M.D., Department of Cardiology, Christchurch Hospital, Christchurch, New Zealand, principal investigator (PI) in the pilot study. "This small but important study affirms the potential of this new extravascular approach to provide pacing and lifesaving defibrillation therapy without the risks that accompany transvenous leads implanted inside the heart and veins."
Medtronic said the data from the pilot trial will be used in developing a pivotal trial for commercialization of the device. 
The Boston Scientific S-ICD continues to show positive data in clinical trials. Most recently at Heart Rhythm 2019, the late-breaking UNTOUCHED study evaluated safety and efficacy of the Emblem S-ICD system for primary prevention of sudden cardiac death in patients with a left ventricular ejection fraction (LVEF) below 35 percent. This is the most common population to be indicated for ICD therapy. The study confirmed the S-ICD had a complication-free rate of 95.8 percent at 30 days post-procedure and high conversion efficacy (99.2 percent) of induced ventricular fibrillation, rates comparable to those seen in previous S-ICD and transvenous ICD studies.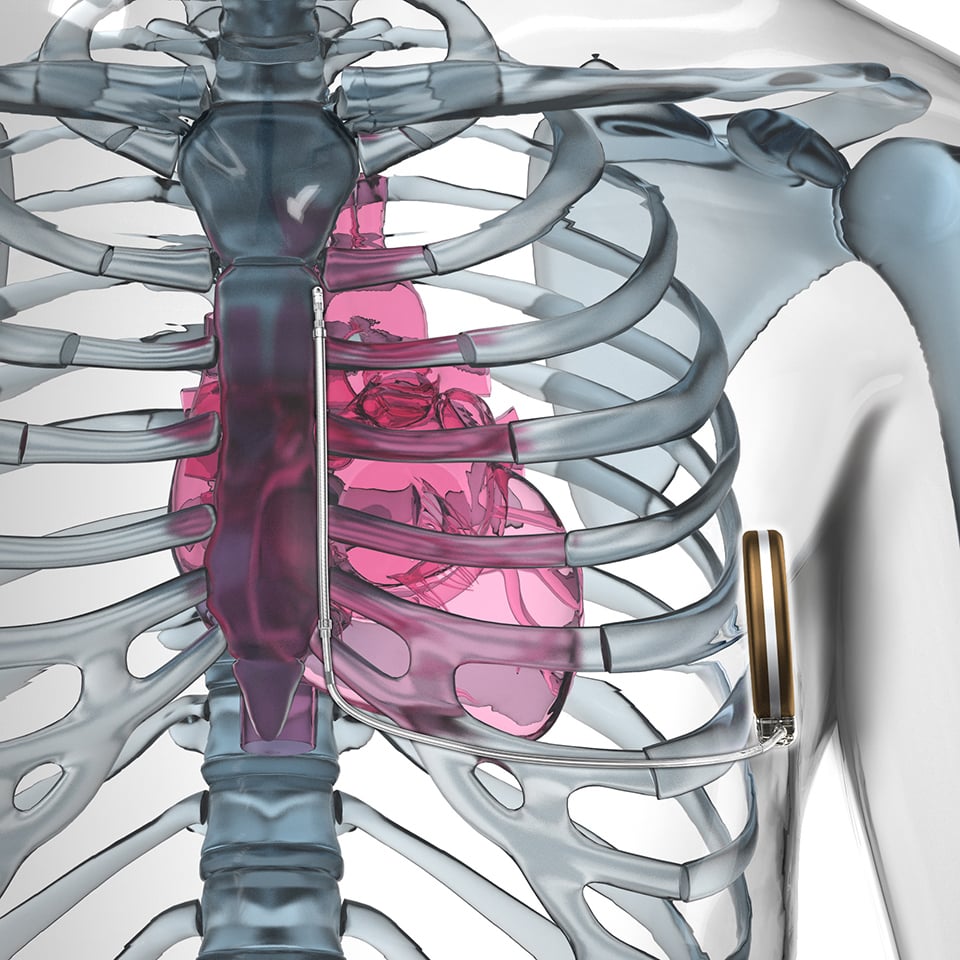 The UNTOUCHED study also reviewed procedure techniques and 30-day outcomes. The majority (69 percent) of procedures were performed using a two-incision technique. The technique had a mean implant time of 55.8 minutes, which was 8 minutes faster than the mean 63.8 minutes for procedures that leveraged a three-incision implant technique, with comparable complication and conversion success rates.  
"We found that the complication rate within this primary prevention population was as low as in prior S-ICD registries, despite the patients having much lower LVEF, more hypertension and diabetes – underscoring that sicker patients do well with this device for the prevention of sudden death," said Lucas V.A. Boersma, M.D., Ph.D., study principal investigator and electrophysiologist at St. Antonius Hospital, the Netherlands. "These acute outcomes also validate the advantages of the two-incision implant technique, which has continued to gain worldwide adoption in the last few years."
Watch the VIDEO: Overview of Subcutaneous ICD Technology, an interview with Boersma.
Analysis of the LATITUDE database evaluating the successful reduction of inappropriate shocks using the Smart Pass sensing filter with the Emblem S-ICD was presented at Heart Rhythm 2018. The technology filters out certain signals that are the primary reason for inappropriate shocks, while still accurately detecting ventricular tachycardia or ventricular fibrillation and delivering lifesaving therapy. Study authors evaluated the effect of Smart Pass on shocks in ambulatory patients and found that the filter reduced the risk of the first inappropriate shock by 50 percent and the risk for all inappropriate shocks by 68 percent, without a negative impact on delivery of appropriate shocks.
New ICD Technologies
There have been several new device introductions to the U.S. market in the past couple years. The biggest trends in ICDs have been smaller devices, simplified implantation, reducing or eliminating leads implanted in the veins or the heart, and a movement toward MRI-conditional labeling. 
In April 2019, Biotronik launched the Acticor device family of new ICDs and cardiac resynchronization therapy defibrillators (CRT-Ds).
When implanted with Biotronik's Plexa ProMRI S DX lead, the hybrid ICD Acticor systems offer dual-chamber diagnostics without the need for an atrial lead. All three Acticor DX devices feature a new DF4 header configuration with a penta-polar electrode lead cable design that simplifies the implant procedure for physicians. Biotronik's DX technology enables the detection of silent atrial fibrillation and allows for supraventricular tachycardia (SVT) discrimination to prevent unnecessary shocks. By reducing the number of leads, procedure times are faster and costs and complications are decreased, the vendor said.
Acticor is approved for use in full-body, 3.0T MRI scans. The new devices measure 10 mm thin, with a smooth, rounded shape that eases implantation and increases patient comfort. The devices have improved battery longevity of nearly 14 years for Acticor DX, and 11 years for both Rivacor CRT and Acticor CRT-DX.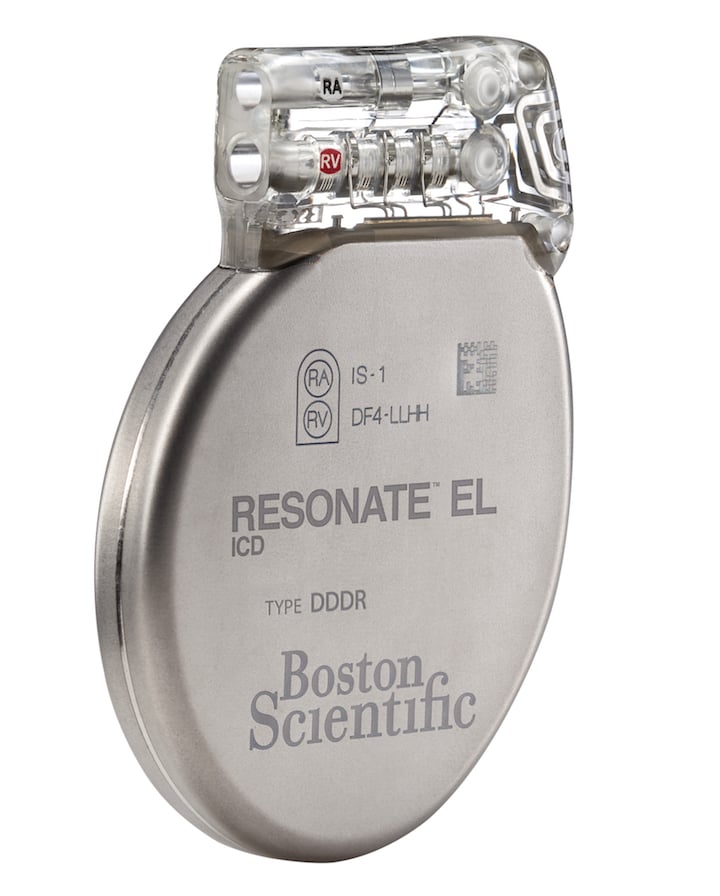 Boston Scientific launched the Resonate family of ICD and CRT-D systems in September 2017. The new devices are FDA-cleared with MR-conditional labeling and feature the HeartLogic Heart Failure Diagnostic to help physicians improve heart failure (HF) management. This feature alerts physicians of worsening HF by combining data from sensors evaluating heart sounds, respiration rate and volume, thoracic impedance, heart rate and activity. The alert is the first HF diagnostic in an implantable device that has been validated to have an observed sensitivity of 70 percent as well as the ability to provide weeks of advance notice — a median of 34 days ahead of an impending HF event — and low burden for detecting indications of worsening HF.[1] 
In addition to the HeartLogic Diagnostic, all CRT-Ds in the Resonate family of devices are enabled with SmartCRT Technology to help physicians customize where, when and how to pace the lower chambers of the heart using the Multisite Pacing capability for multi-electrode pacing. The devices also use EnduraLife battery technology, providing physicians with the ability to tailor device settings according to individual patient needs, without adversely draining the battery and causing unnecessary replacement procedures.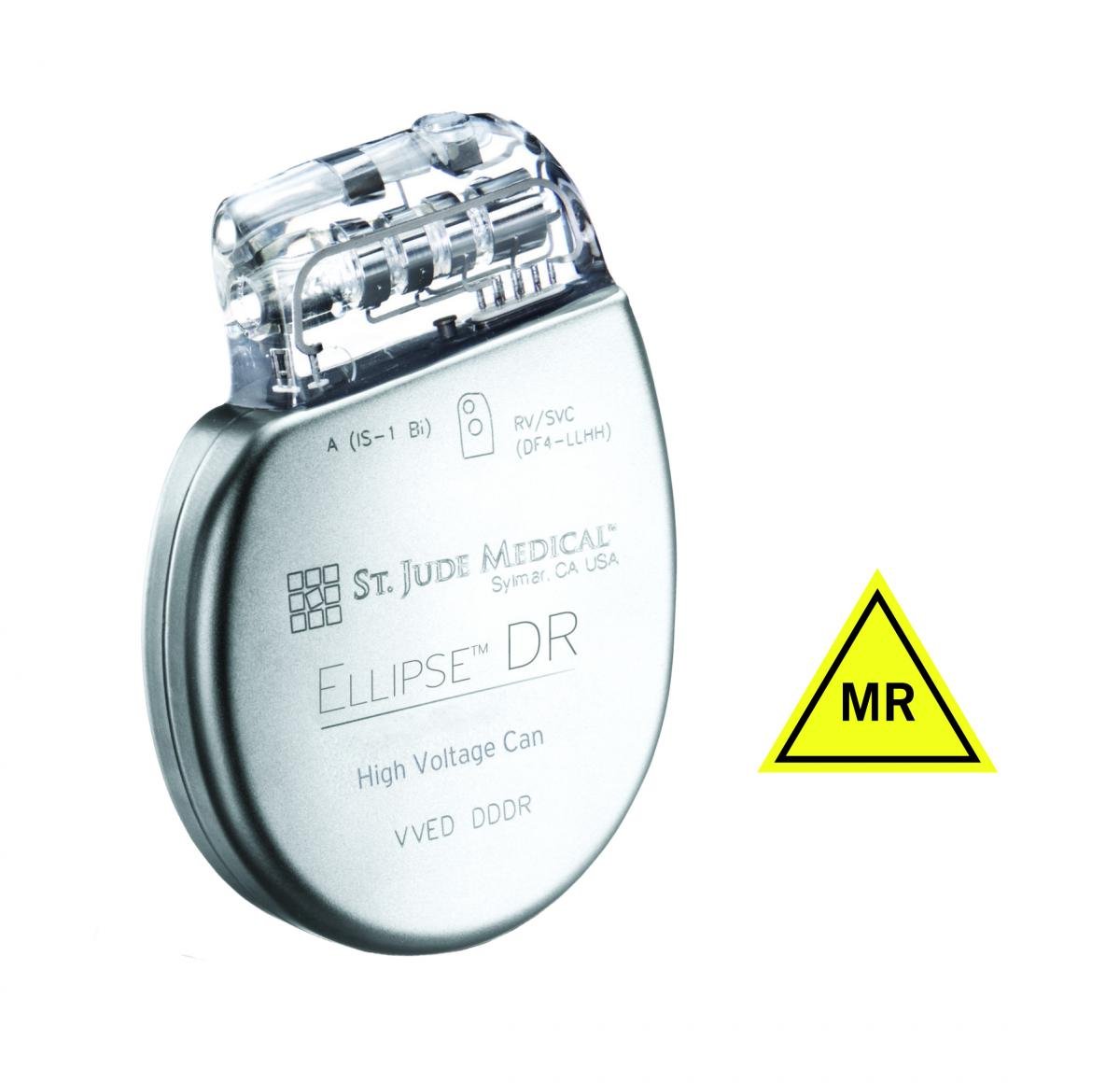 Abbott gained FDA clearance in January 2018 for MR-conditional labeling for the Quadra Assura MP CRT-D and Fortify Assura ICD. The approvals follow recent MR-conditional labeling approvals for the Assurity MRI pacemaker, Ellipse ICD and associated MRI-compatible leads, and further expand Abbott's portfolio of MRI-ready devices. In September 2017, Abbott announced FDA clearance for MR-conditional labeling for one of the company's most widely used ICDs and associated high voltage leads — the Ellipse ICD with the Tendril MRI pacing lead and Durata and Optisure high voltage leads. 
Abbott's Fortify Assura ICD and Quadra Assura MP CRT-D also include the company's suite of TailoredTherapy features, which are designed to provide additional flexibility and control in how therapy is delivered as a patient's therapy needs change over time. The feature set helps protect against the delivery of unnecessary shocks and continuously evaluates the condition of a lead to consistently deliver appropriate therapy. 
Mitigating ICD Infection Risks
Infection risk from creating surgical pockets for implantable devices, and the seriousness of infected leads that travel into the venous vasculature and the heart, has been a major topic of discussion every year at electrophysiology meetings. Two advances in this area were reported in late-breaking trials at the American College of Cardiology (ACC) and Heart Rhythm 2019 annual meetings.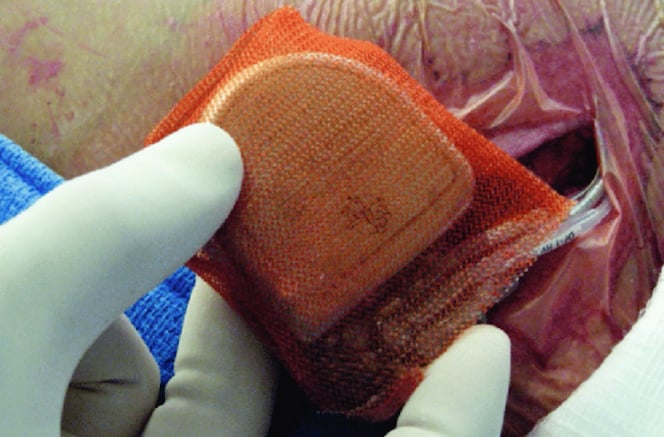 The WRAP-IT trial demonstrated Medtronic's Tyrx Absorbable Antibacterial Envelope reduced the risk of major infection by 40 percent, and pocket infection by 61 percent, in patients with cardiac implantable electronic devices (CIEDs). The improvements were in comparison to standard-of-care pre-operative antibiotics.[2]
"CIED infections are associated with significant morbidity, mortality and cost. Until now, in addition to adhering to strict surgical techniques, only one intervention, pre-operative antibiotics, has been shown to significantly reduce infections," said Khaldoun Tarakji, M.D., MPH, associate section head of cardiac electrophysiology at Cleveland Clinic, principal investigator of the trial. "This study shows that, in addition to pre-operative antibiotics, the use of the antibacterial envelope significantly reduced the risk of CIED infections, and with no increased risk of complications."
Watch a VIDEO interview with Tarakji about the WRAP-IT Trial. 
A new infection risk scoring system was developed based on data from the large PADIT Trial.[3] The new scoring system was presented at Heart Rhythm 2019.
"We developed a novel infection risk score in the largest cardiovascular implantable electronic device (CIED) trial to date, with five independent predictors that are readily adopted into clinical practice," explained Andrew D. Krahn, M.D., FHRS, professor in the Division of Cardiology at the University of British Columbia, who presented the study. He said the PADIT infection score warrants validation in an independent cohort study.
CIED infection is a major complication, usually requiring device removal. The Prevention of Arrhythmia Device Infection Trial (PADIT) was a large cluster crossover trial of standard versus incremental antibiotics. Krahn said the study sought to investigate independent predictors of device infection in PADIT and develop a novel infection risk score. Device procedures were performed in 19,603 patients and hospitalization for infection occurred in 177 (0.9 percent) within one year. Over four six-month periods, 24 centers used either conventional or incremental antibiotic treatment in all patients. The primary outcome was hospitalization for device infection within one year with blinded end-point adjudication. Multivariable logistic prediction modeling was used to identify the independent predictors and develop a risk score for device infection. The model was internally validated with bootstrap methods.
The final prediction model identified five independent predictors of device infection (previous procedures (N), age, decreased renal function, immuno-compromised and type of procedure) with an optimize-corrected C-statistic of 0.704 (95 percent CI, 0.660-0.744).
The PADIT infection risk score, ranging from 0 to 14 points, classified patients into three risk groups:
   • Low (0-4)
   • Intermediate (5-6)
   • High (≥7)
The risk groups had rates of hospitalization for infection of 0.51, 1.42 and 3.41 percent respectively. Subgroup analysis by PADIT infection risk score of the two antibiotic regimes showed no treatment effect.
Race and Gender Disparities in ICD Implants
Three new studies presented at Heart Rhythm 2019 showed patients who are medically indicated for implantable heart devices, including ICDs and CRT, often do not receive needed therapy. The findings underscore gender and race treatment disparities, as well as a lack of referrals to physicians to implant the devices. The analyses were supported by Medtronic and used Optum Electronic Health Records (EHR) datasets and algorithms developed as part of the Medtronic GLIDE HF (GuideLine Indications Detected in EHR for HF) initiative.
"Device usage across both gender and race was strikingly low, despite medical records documenting patient eligibility for the therapy," said Anne B. Curtis, M.D., study author and SUNY Distinguished Professor of Medicine in the Jacobs School of Medicine and Biomedical Sciences at the University at Buffalo, Buffalo, N.Y. "The breadth of practice type – from academic medical centers to community hospitals – along with the sheer number of patients highlight the seriousness of the challenge."
A real-world assessment of disparities among people indicated for the therapies, based on medical society guidelines, found devices were implanted more frequently in indicated men than women (16.7 vs. 12.7 percent), but were significantly underused in all patient populations. In the analysis, both women and men of color and white women received devices at lower rates than white men. This analysis of EHR data from more than 1 million patients is consistent with previous research showing that black patients are considerably less likely to receive cardiac interventions.
The real-world analysis using electronic health record (EHR) data looked at the utilization rates of device therapies in heart failure patients as defined by medical society (ACCF/AHA/HRS) guidelines. The analysis showed that ICDs and CRT-Ds are substantially underutilized compared to other cardiovascular interventions such as imaging, drug therapies and coronary procedures. Less than one-third (32.3 percent) of eligible patients received CRT, and 11 percent of eligible patients received ICDs. The analysis showed consistent underutilization trends across five years (2012-16) in more than 100,000 patients.
A separate analysis of EHR data assessed referral and implant patterns among ICD-indicated patients. The analysis revealed that half (50.5 percent) of ICD-indicated patients were referred to an electrophysiologist. Patients referred to and seen by an electrophysiologist were more likely to receive ICDs. About 44.3 percent of patients seen by an electrophysiologist received a device, according to the study. Among patients who did not see an electrophysiologist, only 8.8 percent received a device.
"While each of these analyses evaluated different aspects of implantable cardiac device use, the unifying theme is that far too many patients are not getting all of the therapies that could provide them with significant benefit," said Rob Kowal, M.D., Ph.D., vice president and chief medical officer of the cardiac rhythm and heart failure division at Medtronic. "Implantable defibrillators and CRT-Ds are life-saving devices, so there is a clear need to address barriers to proper care for indicated patients."
ICD Cybersecurity Concerns
As implantable devices increasingly go wireless to supply data to automated patient monitoring systems and physician offices, in an era where cyberattacks on healthcare and IT systems are growing, the FDA has raised concerns. The agency said hackers could potentially target patients directly, even inadvertently when hacking into other hospital systems. So, the FDA has been monitoring cybersecurity vulnerabilities associated with the internet connection of EP devices. The FDA is concerned ICDs remotely accessed by hackers could present a life-threatening situation.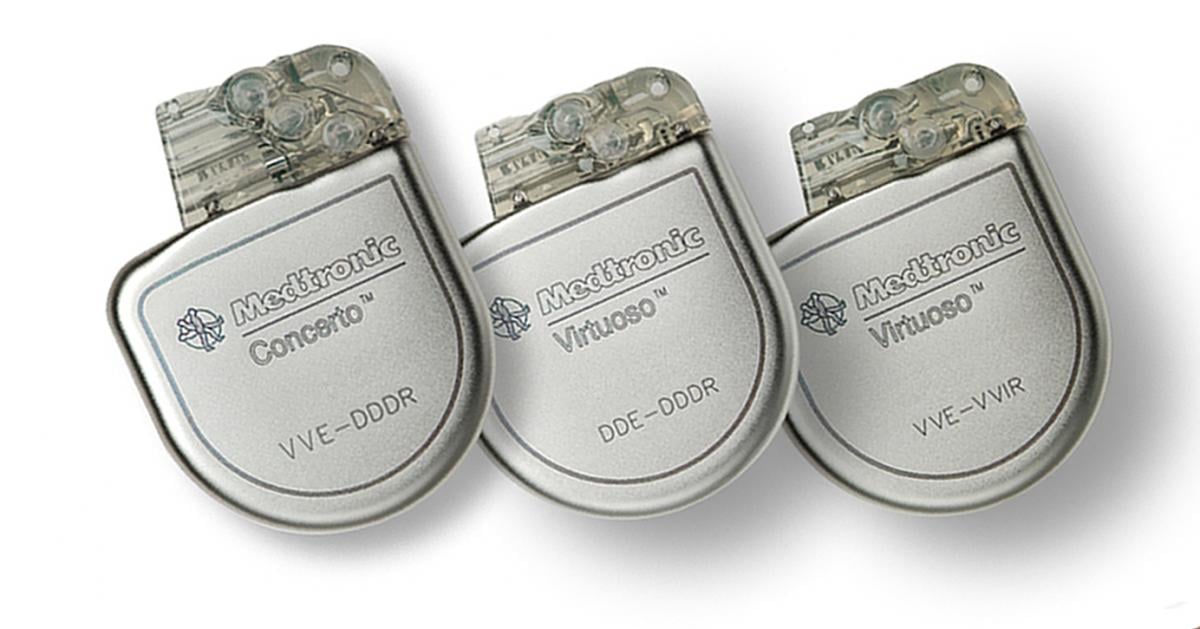 Medtronic was the latest device manufacturer to face agency cybersecurity scrutiny. In March 2019, the FDA issued a safety communication to alert healthcare providers and patients about the cybersecurity vulnerabilities identified in a wireless telemetry technology used for communication between Medtronic's ICDs, cardiac resynchronization therapy defibrillators (CRT-Ds), clinic programmers and home monitors. The FDA said a wireless telemetry protocol used for communication between the devices and their programming and monitoring systems has cybersecurity vulnerabilities because it does not use encryption, authentication or authorization. The FDA said this makes these system easy to hack into. The FDA said although the system's overall design features help safeguard patients, Medtronic is developing updates to further mitigate these cybersecurity vulnerabilities.
In 2018, the FDA raised concerns over a vulnerability found associated with using an internet connection to update software between the Medtronic CareLink and CareLink Encore programmers and Medtronic's software distribution network (SDN). Software updates normally include new software for the programmer's functionality as well as updates to implanted device firmware. Although the programmer uses a virtual private network (VPN) to establish an internet connection with the Medtronic SDN, the FDA said the vulnerability identified with this connection is that the programmers do not verify that they are still connected to the VPN prior to downloading updates. To address that cybersecurity vulnerability and improve patient safety, the FDA cleared an update in October 2018 to the Medtronic network that will intentionally block the currently existing programmer from accessing the Medtronic SDN.
In 2017, the FDA raised concerns with Abbott (formerly St. Jude Medical) pacemakers and defibrillators because they contained configurable embedded computer systems that can be vulnerable to cybersecurity intrusions and exploits. The FDA approved an Abbott firmware update in August 2017 to reduce the risk of patient harm due to potential exploitation of cybersecurity vulnerabilities.     
ICDs Not Meeting Medicare Coverage Criteria Decline After Overuse Investigation Announced
Placement of ICDs not meeting the Centers for Medicare and Medicaid Services (CMS) National Coverage Determination criteria declined following the announcement of a U.S. Department of Justice (DOJ) investigation into potential overuse of such devices. This was according to data from the National Cardiovascular Data Registry (NCDR) ICD Registry between 2007 and 2015, published in the Journal of the American Medical Association in July 2018.[4]
CMS created a National Coverage Determination (NCD) for ICDs in 2005. It incorporated the available clinical evidence and aligned payment practices for primary prevention ICDs in patients insured under Medicare. The DOJ notified hospitals of an investigation into potential overuse of ICDs in 2010 and the investigation was made public in January 2011. Upon the conclusion of the investigation in February 2016, the DOJ reached settlements with more than 500 hospitals for more than $280 million total for Medicare claims not meeting the NCD.
"When the National Coverage Determination was first announced, there were concerns about potential overuse of ICDs," said Nihar Desai, M.D., MPH, lead author of the study and assistant professor of medicine at Yale School of Medicine. "Between 2007 and 2015, there were significant declines in the proportion of primary prevention ICDs placed for indications not meeting National Coverage Determination criteria at all hospitals, with larger and more rapid declines after the announcement of the investigation at hospitals that reached settlements with the DOJ. There were similar declines observed among non-Medicare patients."
Using NCDR ICD Registry data to determine if the DOJ investigation changed clinical practice, researchers analyzed 300,151 primary prevention ICDs in Medicare patients at 1,809 hospitals between January 2007 and December 2015. Of the 502 publicly named hospitals that reached a settlement with DOJ, 470 were matched to facilities in the ICD Registry. Two facilities were confirmed to have closed, and 16 did not submit data or their data did not meet NCDR quality standards. Researchers also analyzed the data of non-Medicare patients to determine if the DOJ investigation impacted the overall patient population undergoing ICD implantation.
In the first half of 2007, 25.8 percent of ICDs at hospitals that settled and 22.8 percent of ICDs at hospitals that did not settle did not meet the National Coverage Determination. Over the full study period, there was a 16.1 percent decline in ICDs not meeting the National Determination Coverage criteria at hospitals that settled with the DOJ and a 12.1 percent decline in hospitals that had not.
The interrupted time series analysis found prior to the announcement of the DOJ investigation that the proportion of ICD placements not meeting the NCD was relatively stable, and the rate of decline was modest and similar among all hospitals. During the DOJ investigation announcement, researchers found significant declines in the proportions of ICDs not meeting the National Coverage Determination at all hospitals. However, the rate was much larger and more rapid at hospitals that went on to reach settlements. At the end of the study, the number of ICDs not meeting the National Coverage Determination criteria was similar in both groups.
Rates of ICD implants not meeting the NCD criteria also fell among non-Medicare patients at both hospitals that did and did not settle with the DOJ.
Overall, there were declines in ICD implants not meeting the NCD, but there was variation at the hospital level. At top performing facilities, less than 3.8 percent of ICD implants did not meet the National Coverage Determination criteria while lower performing facilities had more than 14.3 percent of ICD implants not meeting the criteria.
Airport Security Body Scanners Do Not Interfere With ICDs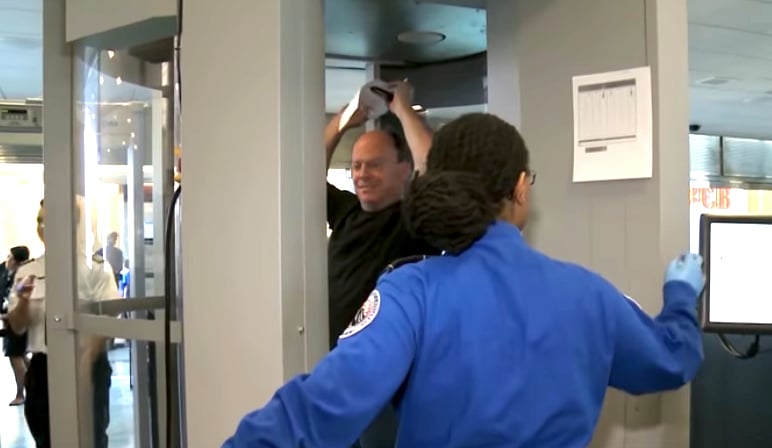 Results from new research presented at Heart Rhythm 2019 show that passengers with CIEDs, including pacemakers and ICDs, can safely travel through airport security checkpoint scanners. This is the first study to look at the relationship between body scanners and the impact on functionality of devices. The study showed no negative interference of any device after analyzing more than 1,000 scans. There were no events of electromagnetic interference (EMI) during the body scans across 375 devices. Further, no CIEDs were detected by the body scanners.
Body scanners are increasingly being used worldwide and are replacing conventional metal detectors. These scanners represent a potential new source of electromagnetic interference (EMI). EMI is a disturbance known to cause pacing inhibition or inappropriate shock therapy. Patients are advised to manage this potential risk by limiting their exposure to certain technologies including metal detectors, magnets, MRI scans and other medical procedures.
Prior to conducting the study, the authors surveyed more than 1,000 patients and found that 80 percent have fears or concerns about passing through body scanners at the airport. The survey information further reinforces the need to clarify the safety of airport security body scans for passengers with CIEDs.
The study included 375 patients enrolled between May 2017 and October 2018. The devices studied included ICD (n=175, 47 percent), conventional pacemakers (PM) (n=127, 33 percent), subcutaneous ICD (S-ICD) (n=52, 14 percent) and leadless pacemakers (LCP) (n=21, 6 percent). The sensitivity levels of the devices were not altered, ICD shock therapy was disabled and permanent ventricular pacing was ensured to facilitate the detection of EMI. The primary endpoint was EMI events including pacing inhibition, upper rate tracking, tachycardia detection and spontaneous reprogramming. The secondary endpoint was the incidence of CIED detection by the body scanner.
"We were surprised to learn that so many patients expressed concerns about the functionality of their devices while traveling. We wanted to help put their minds at ease by testing the potential interference body scanners could have on common devices like pacemakers and defibrillators," said lead author Carsten Lennerz, M.D., MSci, German Heart Centre Munich. "Our study results show that now patients can travel worry-free knowing they can safely go through security checkpoints without the need of disclosing personal medical information."
Related ICD Content:
Wearable External Defibrillator Offers a Bridge Therapy
Advances in Implantable Cardioverter Defibrillator (ICD) Technology
What is New in Electrophysiology Technologies
VIDEO: Overview of Subcutaneous ICD Technology — Interview with Lucas Boersma, M.D.
VIDEO: Advances in Electrophysiology Technology — Interview with Michael Gold, M.D.
References: 
1. Boehmer, J,  Hariharan R, Devecchi FG, et al., "A Multisensor Algorithm Predicts Heart Failure Events in Patients With Implanted Devices: Results From the MultiSENSE Study." JACC-HF, JACC Heart Fail. 2017 Mar;5(3):216-225. doi: 10.1016/j.jchf.2016.12.011.
2. Tarkji K.G., Mittal S., Kennergren C., et al. Antibacterial Envelope to Prevent Cardiac Implantable Device Infection. New England Journal of Medicine, March 17, 2019. DOI: 10.1056/NEJMoa1901111.
3. Krahn AD, Longtin Y, Philippon F, et al. Prevention of Arrhythmia Device Infection Trial: The PADIT Trial. J Am Coll Cardiol. 2018 Dec 18;72(24):3098-3109. doi: 10.1016/j.jacc.2018.09.068.
4. Desai N.R., Bourdillon P.M., Parzynski C.S., et al. "Association of the U.S. Department of Justice Investigation of Implantable Cardioverter-Defibrillators and Devices Not Meeting the Medicare National Coverage Determination, 2007-2015," Journal of the American Medical Association, July 3, 2018. doi:10.1001/jama.2018.8151.
---
If you enjoy this content, please share it with a colleague