The Medtronic Harmony transcatheter pulmonary valve (TPV) system offers a less invasive treatment option for patients with a congenital heart defect irregularity in their right ventricular outflow tract (RVOT) that requires a pulmonary valve placement to restore valve function. 
April 30, 2021 — New study results validate the effectiveness of the Medtronic Harmony transcatheter pulmonary valve (TPV) system for patients with congenital heart disease (CHD) and severe pulmonary regurgitation (PR). The Harmony TPV is designed to be a less invasive treatment option for patients with a congenital heart defect irregularity in their right ventricular outflow tract (RVOT) that requires a pulmonary valve placement to restore valve function. 
The results of this study are being presented as late-breaking clinical science today at the Society of Cardiovascular Angiography and Interventions (SCAI) 2021 Scientific Sessions.
"This is a brand-new class of cardiac devices designated to help a very specific patient population where no less-invasive, percutaneous treatment options were available until now," said Thomas Jones, M.D., the study's principal investigator and director, cardiac catheterization laboratories at Seattle Children's Hospital. "Unlike any other TPV, this novel technology is designed to expand into the enlarged RVOT in these patients while simultaneously deploying a suitable bioprosthetic pulmonary valve. The Harmony TPV system has the potential to fundamentally alter the lifetime management of CHD patients from here on out."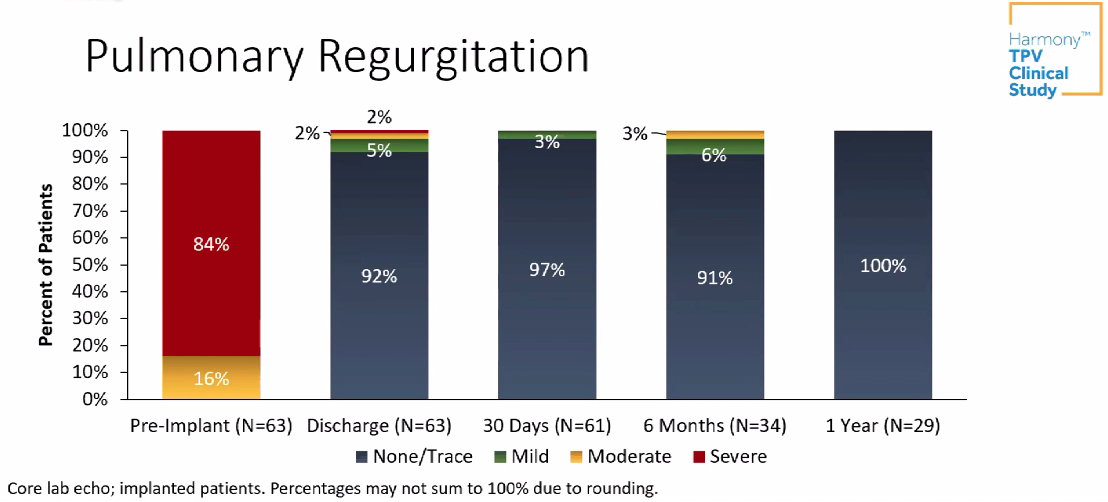 About 40,000 infants are born with CHD every year in the United States,[1,2] and approximately one in five CHD patients have an abnormality of their right ventricular outflow tract (RVOT).[3] Prior to TPV technology, CHD patients were treated with invasive procedures such as open-heart surgery or opted for surgical valve replacement later in life. These procedures are associated with high risk for further complications and mortality. The Harmony TPV is designed to be a noninvasive, nonsurgical treatment option for these adolescent and adult CHD patients.
The prospective, nonrandomized study was conducted at 10 sites in the U.S., Canada and Japan. It included 67 patients who received the valve. Primary safety and effectiveness endpoints included freedom from procedure or device-related mortality at 30 days and percentage of patients with acceptable hemodynamic function at six months and no Harmony valve intervention.
Investigators analyzed two sizes of the Harmony valve, a 22 mm valve (TPV22) and a modified version of the original 25 mm valve (mTPV25). Clinical outcomes through one year included no mortality, endocarditis, major stent fractures or need for surgical intervention. One patient underwent a valve-in-valve intervention for residual stenosis. Over 90% of patients had little to no pulmonary regurgitation during follow-up visits.
"Prior to the development of this valve, there was no other option for these patients," Jones said.  
Traditionally, Jones said a patient with severe PR, right ventricular dysfunction and symptoms, they would undergo a surgical valve replacement or a right ventricular outflow tract conduit implantation. 
"That remains a viable, important therapy, particularly with the younger patient population, but in the adolescent and adult patient population, and remember these are all patients who have undergone prior open heart surgeries in the past, having a transcatheter alternative like the Harmony valve is very well embraced by both referring physicians and patients.," Jones explained.  
In March 2021, the Harmony TPV system was granted U.S. Food and Drug Administration (FDA) market clearance. Additionally, investigators plan to follow-up patients through five years. A post-approval study will also be conducted with follow-up to 10-years. 
Read more about the FDA approval.
Durability of the Harmony Transcatheter Valve and Potential for Valve-in-Valve Procedures
Jones said the valve is expected to last at least 10 years before a replacement might be needed. However, he said there is the possibility is may last longer. He said even after the valve leaflets wear out, a valve-in-valve procedure can be performed where another transcatheter valve is deployed inside the old transcatheter valve. 
"This platform has the ability to allow further valve-in-valve implantations," Jones said. is made of an expandable nitinol frame, so it can accommodate at least one, and probably more, transcatheter valves. This offers a patient who needs a new pulmonary valve to get a Harmony valve, and then go perhaps another 10 years or more with that valve. Then they can get another transcatheter valve after that. So our hope is that this valve may last 20 or 20 years, maybe longer 20-30 years, perhaps longer, might be achievable with this technology," Jones explained. 
He said it is not uncommon for a 40-year-old with tetralogy of fallot to have four or five open heart surgeries over the course of their lifetime. "So, this is a way to reduce the lifetime burden of repeat open heart surgeries," Jones.
VIDEO: Harmony Transcatheter Pulmonary Valve Has Good Outcomes at 1 Year — Interview with Tom Jones, M.D.
Find more news from the SCAI 2021 virtual meeting
Related Pulmonary Valve Content:
FDA Clears First Device to Treat Right Ventricular Outflow Tract Congenital Heart Disease 
FDA Clears Sapien for Pulmonary Valve
Medtronic Harmony Transcatheter Pulmonary Valve Demonstrates Positive Early Clinical Outcomes at One Year
Medtronic Shares Two-Year Harmony Transcatheter Pulmonary Valve Results
FDA Expands Indication for Melody Transcatheter Valve for Failed Surgical Valves
Find more congenital heart disease (CHD) content
References:
1. Hoffman JL, Kaplan S. The incidence of congenital heart disease. J Am Coll Cardiol. 2002;39(12):1890-1900.
2. Reller MD, Strickland MJ, Riehle-Colarusso T, Mahle WT, Correa A. Prevalence of congenital heart defects in Atlanta, 1998-2005. J Pediatr. 2008;153:807-13.
3. McElhinney DB, Hennesen JT. The Melody valve and Ensemble delivery system for transcatheter pulmonary valve replacement. Ann NY Acad Sci. 2013; 1291: 77-85.
 
---
If you enjoy this content, please share it with a colleague