Cardiac Imaging
The cardiac imaging channel includes the modalities of computed tomography (CT), cardiac ultrasound (echocardiography), magnetic resonance imaging (MRI), nuclear imaging (PET and SPECT), and angiography. 
February 15, 2023 — Nano-X Imaging Ltd, an innovative medical imaging technology company, announced that its deep ...
February 14, 2023 —DiA Imaging Analysis, a leading provider of advanced AI-based software solutions for ultrasound image ...
February 10, 2023 — GE HealthCare, a leading global precision care innovator, announced that it has signed an agreement ...
February 9, 2023 — Royal Philips (NYSE: PHG, AEX: PHIA), a global leader in health technology, has entered into a long ...
February 6, 2023 — Recent advances in newborn heart surgery have greatly reduced brain injuries in infants with ...
Here is a recap of what DAIC viewers found most interesting during the month of January:
1. A Dietary Supplement ...
January 30, 2023 — Photon-counting detector CT reduces the amount of contrast needed for CT angiography (CTA) while ...
January 30, 2023 — Heart disease is the leading cause of death worldwide. In the U.S., it is estimated that someone dies ...
January 20, 2023 — Healthcare software start-up, Realize Medical, announced today that its virtual reality (VR) software ...
January 20, 2023 — Martha Gulati, MD, director of Preventive Cardiology and associate director of the Preventive and ...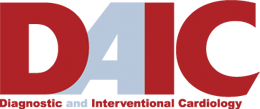 Subscribe Now