Cases of acute cardiovascular disease and cardiac complications caused by COVID-19 require cardiovascular imaging ...
January 9, 2020 — Maulik Majmudar, M.D., chief medical officer at Amazon will be the keynote speaker at the upcoming ...
An example of Siemens' photo-realistic Cinematic image reconstruction. This image is from a CTA exam from a Siemens ...
This is a photo essay of the cardiovascular CT technologies on the expo floor and discussed in sessions at the 2019 Soci ...
This is a quick video example of a cardiac computed tomography (CT) exam showing a Medtronic CoreValve transcatheter ...
This is an example of in-stent restenosis shown using spectral CT imaging. This example was demonstrated by Philips ...
There were several interesting new trends in cardiovascular computed tomography (CT) imaging at the 2019 Society of ...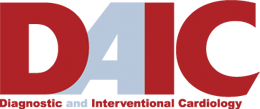 Subscribe Now