July 11, 2019 — Mednax Inc. and Mednax Radiology Solutions announced that Chief Medical Officer Ricardo C. Cury, M.D ...
June 20, 2019 — A new type of care for cardiac patients at St. Paul's Hospital, Vancouver, has the potential to reduce h ...
June 13, 2019 — Three-dimensional (3-D) printing software and solutions company Materialise has received U.S. Food and ...
June 4, 2019 — Medis Medical Imaging Systems B.V. has received clearance from the U.S. Food and Drug Administration for ...
Chest pain is one of the most frequent reasons for an evaluation in the emergency room.There are multiple imaging ...
A demonstration of how to calculate the neo-left ventricular outflow tract (neo-LVOT) on CT imaging for a transcatheter ...
A discussion with Gianluca Pontone, M.D., Ph.D., FSCCT, director of cardiovascular MRI, Centro Cardiologico Manzino ...
Feature | Structural Heart | Nadeen N. Faza, M.D., Dee Dee Wang, M.D., Joao Cavalcante, M.D., Andrew D. Choi, M.D., Jeffrey B. Geske, M.D., and Stephen H. Little, M.D.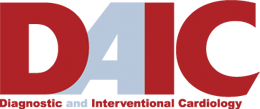 Subscribe Now