Stroke
This channel includes news and new technology innovations for stroke. It includes both diagnosis and treatment of stroke, stroke imaging, pharmaceuticals and interventional stroke technologies. Stroke comes in two forms, which have different therapies.
1. Ischemic stoke is a blockage of an artery in the brain, preventing blood flow and is offen referred to as a "brain attack" because it is a similar casue as a heart attack. This type of stroke is often treated with anti-coagulants, including use of tissue plasminogen activator (tPA). Interventional mechanical thrombectomy can also be used to remove the clot.
2. Hemorrhagic stroke is caused when there is bleeding due to a ruptured blood vessel in the brain caused by a brain aneurysm burst or a weakened blood vessels. These strokes are less common, but exact diagnosis is important, because use of tPA in these patients can have catastrophic consequences. Treatments include interventional embolization and surgical clipping of target vessels. 
August 11, 2022 — With physicians and patients looking for ways to extend health care beyond the traditional doctor's ...
Here is what you and your colleagues found to be most interesting in the fields of diagnostic and interventional ...
July 26, 2022 — While overall current electronic cigarette use (meaning use within the past 30 days) fell slightly in ...
July 14, 2022 — More than one in four pregnancy-related deaths (26.5%) in the U.S. are tied to poor heart health ...
July 12, 2022 — Pesticides and heavy metals in soil may have detrimental effects on the cardiovascular system, according ...
July 5, 2022 — Is lowering patients' blood pressure following treatment for an ischemic stroke a safe way to lead to ...
July 1, 2022 — The carotid artery in 81-year-old Reynold Zamora's neck was nearly completely blocked with plaque ...
June 30, 2022 — Before a baby is ever born, critical supply chain problems with nutrition and oxygen can result in ...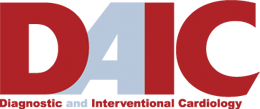 Subscribe Now