The Morristown Medical Center radial lounge uses recliner chairs rather than hospital beds for patients recovering from cath lab procedures using transradial access. The vascular access technique allows patients to immediately walk off the cath lab table following a procedure and they can use the bathroom and walk around during recovery. This is rapidly becoming the preferred access route in cath labs as opposed to the long-used standard of care of femoral artery access in the groin, which required hours of being immobilized in a hospital bed after the procedure, an usually an overnight stay at the hospital.
August 25, 2020 – Atlantic Health System's Morristown Medical Center has opened one of the region's first radial lounges in its Gagnon Cardiovascular Institute. Morristown Medical Center has been named the top hospital in New Jersey, and its cardiology and cardiac surgery program ranked among the Top 50 nationally.
Radial lounges are specifically designed to meet the needs of cardiac catheterization patients who have had their procedure performed through a catheter inserted into their radial artery in the wrist, also known as transradial catheterization. This procedure, which has a shorter recovery period and less bleeding risk than traditional cardiac catheterizations done through the femoral (groin) artery, is now an option for many patients who are catheterized in order to conduct a diagnostic angiogram or have an angioplasty or stent procedure. 
"Nearly half of all cardiac catheterizations are now done transradially, and there is plenty of data to show it is very safe and can be done as an outpatient procedure" said Jordan G. Safirstein, M.D., FACC, FSCAI, director of transradial catheterization for Atlantic Health System's Morristown Medical Center and a nationally recognized thought leader on transradial catherization and stenting. "We saw the need for a recovery area for these patients that was more comfortable.  These patients don't need a traditional recovery room. Our goal is to safely send patients home on the same day of their procedure but while they spend time with us, it should be time spent relaxing, reading, receiving education about their procedure and prevention of future events. If they need new medications, we can provide that to them before they leave."
The newly designed radial lounge at Morristown Medical Center has six bays that will be more comfortable for patients and family members. In a traditional recovery room, transradial catheterization patients are confined to a stretcher and wall monitors. The radial lounge is a modernized recovery area, where the recovering patient can walk around while being monitored via wireless telemetry.
"Patients can help themselves to food and beverages, sit in a comfortable lounge chair, and even use the restroom independently," Safirstein said.  "This all leads to a more comfortable and humane recovery period for transradial cardiac catheterization patients."
Although the post-procedure bleeding risk is virtually nonexistent with radial access, a pressure wristband, also known as a TR band, is placed following the transradial catheterization in order to stop the artery from bleeding. Transradial procedures use minimal sedation and patients typically walk back to their recovery bays, sometimes with a bathroom stop. Transradial (TR) patients are alert and oriented, and only remain in recovery long enough to remove the TR wrist compression band that prevents bleedingfrom the access site, generally in 4-6 hours.
 
Safirstein specializes in cardiac and peripheral vascular Intervention as well as minimally invasive transcatheter aortic valve replacement (TAVR). He is one of the interventional cardiologists on the Valve Center team at Morristown Medical Center, which has performed more TAVR procedures than any other facility in the state of New Jersey.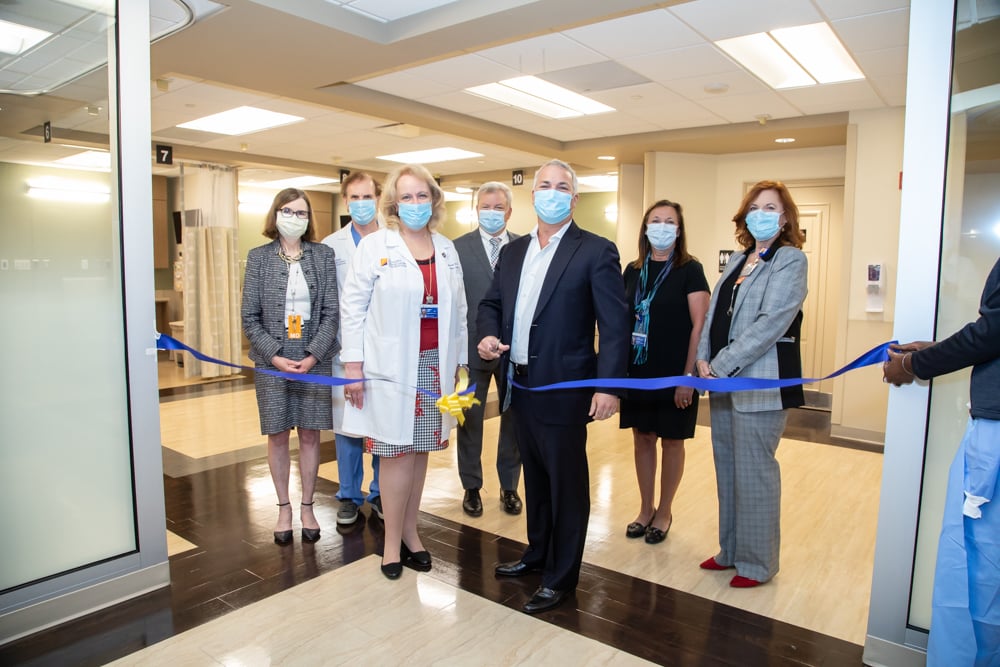 Jordan Safirstein, M.D., cuts the ribbon to open the new transradial lounge recovery area at Morristown Medical Center.
Heart Care at Atlantic Health System 
Atlantic Health System's expert team presents research across the world and is comprised of interventional cardiologists, electrophysiologists, heart failure experts, advanced imagers, general non-invasive cardiologists and cardiac surgeons.
The program also offers expert-led specialty programs in hypertrophic cardiomyopathy, sports cardiology, cardio-oncology, pediatric cardiology, and heart disease in women. The team works closely with community cardiologists who provide a medical home for patients with heart disease.
Atlantic Health System Heart Care is focused on offering minimally-invasive and non-invasive procedures that help patients return to their lives faster, including valve replacement options for the aortic, mitral, and tricuspid valve, and is helping pioneer the radial approach for angioplasties. 
Morristown Medical Center is home to the largest cardiac surgery and invasive cardiology programs in New Jersey and offers many of the most up-to-date cardiac imaging technologies available. 
Related Transradial Access Content:
VIDEO: Tour of a Radial Access Recovery Lounge That Mimics Cafe Atmosphere — Interview with Jack P. Chen, M.D.
VIDEO: The Benefits of Transradial Access — Interview with Jack P. Chen, M.D.
Radial Access Recovery Lounge Mimics Cafe Atmosphere
VIDEO: History of Radial Artery Access - an interview with Ferdinand Kiemeneij, M.D.
Radial Access Adoption in the United States
VIDEO: New Frontiers in Radial Access — an interview with Mladen I. Vidovich, M.D.
Radial Access, Same-Day Cardiac Procedure Could Save $300 Million Annually
VIDEO: Update on U.S. Transradial Access Adoption — an interview with Sunil Rao, M.D.
VIDEO: Trends in Radial Access for Percutaneous Coronary Interventions — Interview with Sunil Rao, M.D., and Prashant Kaul, M.D.
Transradial Access Celebrates 25 Years
Radial Access Offers Many Benefits to PCI
Incorporating Distal Radial Artery Access Into Clinical Practice
Radial Access Nearing 50 Percent of PCI Volume in U.S.
SCAI Updates Expert Consensus Statement on Best Practices for Transradial Access
---
If you enjoy this content, please share it with a colleague