November 21, 2019 — People who experience cardiac arrests over the weekend are less likely to survive long enough to be ...
November 21, 2019 — Endotronix, a digital health and medical technology company dedicated to advancing the treatment of ...
It's an exciting time in the heart failure (HF) world right now with the emergence of new therapies, including ...
November 20, 2019 — Heart attack survivors may have an increased risk of developing cancer compared to people without ...
November 20, 2019 — Ultra-processed foods, which account for more than half of an average American's daily calories, are ...
November 20, 2019 — Frequent cannabis (marijuana) use among young people was linked to an increased risk of stroke, and ...
November 19, 2019 — After 12 years of collecting data, the results of the landmark ISCHEMIA (International Study of ...
November 19, 2019 — Here is a list of the key late-breaking clinical study presentations and links to the results at the ...
(February 2020 update — the results of this trial led to the FDA clearnace of the Micra AV device in January 2020 - FDA ...
November 14, 2019 — More than a million Americans face a doubling in their risk of death during or while recovering from ...
November 14, 2019 — A new study from researchers at the Smidt Heart Institute at Cedars-Sinai shows that electronic ...
November 14, 2019 — A large majority of patients with atherosclerotic cardiovascular disease (ASCVD) in the NCDR ...
March 18, 2019 — The choices we make every day can have a lasting effect on our heart and vascular health. Adopting a ...
Here are a few of the takeaways from the clinical studies presented and new technology shown on the exhibit floor at the ...
December 4, 2018 — Quest Diagnostics recently announced it will contribute biomarker implementation, population health a ...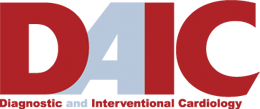 Subscribe Now