Shimadzu Medical Systems highlighted new features of its Trinias Interventional X-ray line at the America College of ...
Tom Kloetzly, sales and marketing VP for Shimadzu Medical Systems USA, explains the evolution of Shimadzu Corporation ...
April 27, 2017 — Wentworth-Douglass Hospital in Dover, N.H., installed Toshiba Medical's Infinix-i Sky + angiography sys ...
April 18, 2017 — Patients at Terrebonne General Medical Center (TGMC) in Houma, La., now have access to safe, high ...
DAIC Editor Dave Fornell takes a tour of some of the interesting new technologies from the vendor booths on the expo ...
April 3, 2017 — Here is the list of the top 25 most popular pieces of content on the Diagnostic and Interventional ...
MDBuyline analyst Tom Watson shares some of the most important trends in cardiac technology he saw at the 2017 American ...
March 24, 2017 — At the 2017 American College of Cardiology's Annual Scientific Session & Expo (ACC.17), Philips ...
March 16, 2017 — During the 66th Annual Scientific Session & Expo of the American College of Cardiology (ACC), March 17 ...
March 15, 2017 — The U.S. Food and Drug Administration (FDA) has cleared the Artis pheno robotic C-arm angiography syste ...
March 10, 2017 — The most prevalent method for obtaining images of clogged coronary vessels is coronary angiography. For ...
Here is a compilation of some of DAIC's recent video coverage of new interventional cardiology device technologies. 
...
March 6, 2017 — ON Semiconductor announced the release of a new CCD image sensor that enables video imaging under ...
March 3, 2017 — Philips recently announced the global launch of Azurion, its next-generation image-guided therapy platfo ...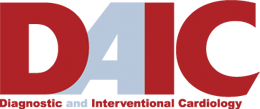 Subscribe Now