July 12, 2018 — CathWorks announced the approval of a new Current Procedural Terminology (CPT) code 0523T for non ...
July 3, 2018 — HeartFlow Inc. announced that UnitedHealthcare now covers the HeartFlow FFRct Analysis, extending access ...
June 6, 2018 — Here is a checklist of dose-sparing practices for angiographic X-ray imaging used in the cath lab. This ...
A new consensus document on how to mitigate radiation exposure in cardiac imaging for both patients and staff was issued ...
June 1, 2018 — Here is the list of the most popular content on the Diagnostic and Interventional Cardiology (DAIC) ...
May 22 2018 — Pie Medical Imaging announced that clinical data on its CAAS vFFR (Cardiovascular Angiographic Analysis ...
May 15, 2018 – The large-scale, international randomized PRESERVE clinical trial found high-risk patients for renal ...
May 10, 2018 — A new consensus document has been issued to guide the optimal use of ionizing radiation in cardiovascular ...
In the past, there was not much that could be done to mitigate the X-ray radiation exposure of interventional ...
We started our design from the ground up, tested many prototypes, did not want to compromise on radiation protection for ...
The biggest workplace concern for interventional cardiologists and cath lab staff is their daily exposure to ...
April 11, 2018 — Abbott today announced the initiation of a clinical trial evaluating long-term outcomes of patients who ...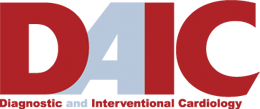 Subscribe Now