Cath Lab Navigation Aids
This channel includes news and new technology innovations for navigation aids to help guide interventional procedures. These include advanced imaging, fusion imaging, rotational angiograpy, fluoro overlay images, robotic systems, and 3D printing and holograms for use in the interventional lab or cath lab.
Shimadzu's latest generation interventional lab angiography imaging system, the Trinias, enables advanced imaging ...
December 7, 2016 — At the 102nd Scientific Assembly and Annual Meeting of the Radiological Society of North America ...
DAIC Editor Dave Fornell takes a video tour of some of the most innovative new interventional cardiology technologies he ...
November 7, 2016 – Two-year results from the COLOR Trial, the first large-scale multicenter prospective study of its ...
October 27, 2016 — Corindus Vascular Robotics Inc. announced it received 510(k) clearance from the U.S. Food and Drug ...
There has been a lot of interest in the interventional community regarding the Abbott Absorb Bioresorbable Vascular ...
While guidewires are a key tool used by all interventionalists in the cath lab, most operators do not have a deep ...
The rapid growth of transcatheter structural heart procedures and the need for increased use of echocardiography as an ...
Some have labeled bioresorbable scaffolds (BRS), also known as bioresorbable stents, as the fourth evolution of ...
While angiographic X-ray fluoroscopy systems are the workhorse for transcatheter cardiovascular interventional ...
Angiographic imaging system vendors have developed new technologies to address emerging cath lab trends, including the ...
Below is a round up of news and videos about new cardiac ultrasound technology discussed in sessions and on the expo ...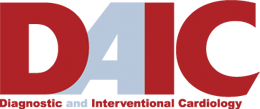 Subscribe Now