Cath Lab Navigation Aids
This channel includes news and new technology innovations for navigation aids to help guide interventional procedures. These include advanced imaging, fusion imaging, rotational angiograpy, fluoro overlay images, robotic systems, and 3D printing and holograms for use in the interventional lab or cath lab.
Transcatheter interventions have become a mainstay in cardiac care as treatments for structural and congenital heart ...
The use of invasive, pressure wire-based fractional flow reserve (FFR) in the cath lab is now considered the gold ...
July 26, 2018 — The Society of Cardiac Angiography and Interventions (SCAI) released a focused update expert consensus ...
The use of non-invasive fractional flow reserve CT (FFR-CT) was the hottest topic discussed at the Society of ...
May 14, 2018 – A new study examines the effectiveness of 3-D printing technology and computer modeling to predict ...
The European interventional cardiology market is currently valued at nearly $1.4 billion. This is a mature market that ...
As a magazine that covers new technology, DAIC is introducing some new technology of its own with this issue — augmented ...
February 15, 2018 — The National Institutes of Health (NIH) awarded a $2.2 million research grant to healthcare ...
Here is a list of what I think were some of the top interventional technologies discussed at the 2017 Transcatheter ...
DAIC Editor Dave Fornell shows some of the innovations displayed on the expo floor at the 2017 Transcatheter ...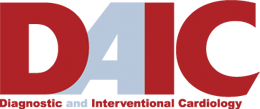 Subscribe Now