Cath Lab Navigation Aids
This channel includes news and new technology innovations for navigation aids to help guide interventional procedures. These include advanced imaging, fusion imaging, rotational angiograpy, fluoro overlay images, robotic systems, and 3D printing and holograms for use in the interventional lab or cath lab.
Juan Granada, M.D., Cardiovascular Research Foundation president and chief executive officer, shares his insights on ...
November 6, 2017 — Three-year data from the FAME 2 study show patients with coronary artery disease who underwent a ...
November 6, 2017 – The Centers for Medicare & Medicaid Services (CMS) has finalized a New Technology Ambulatory Payment ...
Three-dimensional (3-D) printed anatomic models created from a patient's computed tomography (CT), magnetic resonance ...
August 28, 2017 — Philips Healthcare and HeartFlow Inc. announced they entered into a collaboration agreement to improve ...
Shimadzu Medical Systems highlighted new features of its Trinias Interventional X-ray line at the America College of ...
June 15, 2017 – Structural heart interventions are increasingly applied in patients with severe tricuspid regurgitation ...
Madhav Swaminathan, M.D., FASC, FAHA, clinical director of cardiothoracic anesthesiology, at Duke University Medical ...
March 20, 2017 — For patients experiencing angina (chest pain) or a heart attack, instantaneous wave-free ratio (iFR) ...
ITN Editor Dave Fornell takes a tour of some of the most innovative new technology that was displayed on the expo floor ...
Here is a compilation of some of DAIC's recent video coverage of new interventional cardiology device technologies. 
...
When a pediatric patient at Children's Hospital Los Angeles needed a custom-build stent to repair his pulmonary artery ...
Each year imaging system manufacturers use the Radiological Society of North America (RSNA) meeting at the end of the ...
Detailed imaging is needed to support complex interventions for the assessment and procedure guidance.  See how the GE ...
January 4, 2015 — At RSNA 2016, Siemens Healthineers unveiled its 510(k)-pending robot-supported Artis pheno angiography ...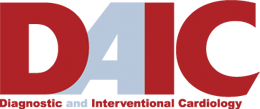 Subscribe Now