Computed Tomography (CT)
Cardiac computed tomography CT systems use a series of X-ray images to create an image volume dataset that can be sliced or manipulated on any plane using advanced visualization software. This channel includes content on CT scanners, CT contrast agents, CT angiography (CTA and CCTA), CT perfusion, spectral CT (also called dual souce or dual energy CT), and interative image reconstruction software that can reduce dose and make lower-quality CT images diagnostic.
March 5, 2020 — Experts in the medical imaging community have developed a new, landmark consensus document to optimize ...
February 28, 2020 — New healthcare technologies are being implemented in the fight against the novel coronavirus (COVID ...
The key question I am always asked at cardiology conferences is what are the trends and interesting new technologies I ...
January 9, 2020 — Maulik Majmudar, M.D., chief medical officer at Amazon will be the keynote speaker at the upcoming ...
Here are the top performing 25 videos posted to the DAIC website in the past year, based on Google Analytics. These the ...
DAIC Editor Dave Fornell and Imaging Technology News (ITN) Consulting Editor Greg Freiherr offer a post-game report on ...
October 28, 2019 — Leaders within University Hospitals and the Harrington Heart and Vascular Institute had a vision to ...
October 21, 2019 — Canon Medical Systems USA Inc. has received U.S. Food and Drug Administration (FDA) 510(k) clearance ...
October 18, 2019 — An algorithm developed by faculty at The University of Texas Health Science Center at Houston ...
September 26, 2019 — The U.S. Food and Drug Administration (FDA) has cleared three modules of AI-Rad Companion Chest CT ...
September 12, 2019 — HeartFlow Inc. has obtained clearance from the U.S. Food and Drug Administration (FDA) for the ...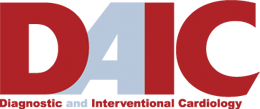 Subscribe Now