Computed Tomography (CT)
Cardiac computed tomography CT systems use a series of X-ray images to create an image volume dataset that can be sliced or manipulated on any plane using advanced visualization software. This channel includes content on CT scanners, CT contrast agents, CT angiography (CTA and CCTA), CT perfusion, spectral CT (also called dual souce or dual energy CT), and interative image reconstruction software that can reduce dose and make lower-quality CT images diagnostic.
October 18, 2019 — An algorithm developed by faculty at The University of Texas Health Science Center at Houston ...
September 26, 2019 — The U.S. Food and Drug Administration (FDA) has cleared three modules of AI-Rad Companion Chest CT ...
September 12, 2019 — HeartFlow Inc. has obtained clearance from the U.S. Food and Drug Administration (FDA) for the ...
September 3, 2019 — Here is the list of the most popular content on the Diagnostic and Interventional Cardiology (DAIC) ...
An example of Siemens' photo-realistic Cinematic image reconstruction. This image is from a CTA exam from a Siemens ...
This is a photo essay of the cardiovascular CT technologies on the expo floor and discussed in sessions at the 2019 Soci ...
This is a quick video example of a cardiac computed tomography (CT) exam showing a Medtronic CoreValve transcatheter ...
This is an example of in-stent restenosis shown using spectral CT imaging. This example was demonstrated by Philips ...
There were several interesting new trends in cardiovascular computed tomography (CT) imaging at the 2019 Society of ...
New technologies have been developed that may replace the traditional pressure wires and adenosine to assess the fractio ...
July 31, 2019 — Researchers found anti-inflammatory drug therapies used to treat moderate to severe psoriasis can ...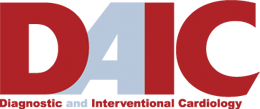 Subscribe Now