Interventional Radiology
Interventional radiology uses tools like embolization devices to provide minimally invasive medical diagnosis and treatment using images.
January 17, 2019 — Philips announced the launch of Azurion with FlexArm, designed to enhance positioning flexibility for ...
This is a quick walk around of a GE Healthcare Image Guided System (IGS) angiography system cath lab room display at the ...
November 21, 2018 — BTG plc announced the first Ekos CU 4.0 units have been shipped from BTG's facility in Bothell, Wash ...
October 3, 2018 — Image Diagnostics has entered into a product development agreement with ECLS Inc. to design a new radi ...
This is a 360 degree photo view inside the neuro-interventional radiology lab at Henry Ford Hospital to show the layout ...
June 29, 2018 — Embolx Inc. has received 510(k) clearance from the U.S. Food and Drug Administration (FDA) for its next ...
May 23, 2018 — Guerbet LLC USA announced the upcoming launch of SeQure and DraKon, two novel microcatheters for tumor ...
May 15, 2018 — U.S. First Lady Melania Trump underwent an interventional radiology embolization procedure to treat a ...
May 9, 2018 — The Society of Interventional Radiology (SIR), in conjunction with Rep. Mia Love (R-Utah) participated in ...
The introduction of thermal ablation revolutionized the treatment of varicose veins, yet recurrence remains a stubborn ...
The biggest workplace concern for interventional cardiologists and cath lab staff is their daily exposure to ...
March 27, 2018 — Physicians, trainees and even laypeople can now stand right beside an expert radiologist as he performs ...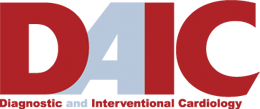 Subscribe Now