Interventional Radiology
Interventional radiology uses tools like embolization devices to provide minimally invasive medical diagnosis and treatment using images.
August 17, 2017 — Houston Methodist Hospital and Siemens Healthineers have entered into a multi-year agreement to bring ...
August 7, 2017 — Virtual Phantoms Inc. announced the release of VirtualDoseIR, a tool for assessing organ dose from inte ...
August 3, 2017 — Cancer patients at Moffitt Cancer Center in Tampa, Fla., now have access to advanced diagnostic imaging ...
This video case study, provided by Gore Medical, is titled "Tackling Complex Cases in Dialysis Access," by John Ross, M ...
July 7, 2017 — BTG plc recently highlighted the results of the ACCESS PTS trial, presented at the Society for Vascular ...
July 5, 2017 — Michigan Medicine recently became the first healthcare institution in the United States to install the ...
This video, provided by Ekos, demonstrates the EkoSonic endovascular System thrombolytic system to treat deep vein ...
June 1, 2017 — Infab Corp. recently introduced Revolution Lead and Lead-Free Aprons with Kiarmor, Infab's proprietary bi ...
May 24, 2017 — Fourteen members of the Society of Interventional Radiology (SIR) took to Capitol Hill recently to ...
May 16, 2017 — Adept Medical announced the launch of the IR Platform, designed as an over-patient work surface for vascu ...
Tom Kloetzly, sales and marketing VP for Shimadzu Medical Systems USA, explains the evolution of Shimadzu Corporation ...
April 27, 2017 — Wentworth-Douglass Hospital in Dover, N.H., installed Toshiba Medical's Infinix-i Sky + angiography sys ...
April 26, 2017 — A new Varicose Vein Registry has begun producing useful outcomes information, as reported in the May ...
April 18, 2017 — Patients at Terrebonne General Medical Center (TGMC) in Houma, La., now have access to safe, high ...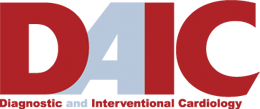 Subscribe Now