Radiation Dose Management
This channel includes news and new technology innovations for X-ray radiation dose monitoring, dose management, dose recording and radiation safety for cath lab staff. Technologies include systems to reduce or block dose via barriers or computed tomography (CT) dose reduction technologies such as iterative reconstruction.
December 4, 2014 — Biodex showcased its latest line of medical imaging tables and Clear-Lead Shielding at RSNA 2014.
...
November 19, 2014 — At the 2014 Radiological Society of North America (RSNA) meeting, Cerner Corp. will feature RadNet ...
November 18, 2014 — Radcal Corporation announced the release of its first WiFi device, the Nugget, which will be ...
November 11, 2014 — TIDI Products LLC has acquired CFI Medical Solutions (CFI) of Fenton, Mich., a diversified medical ...
November 10, 2014 — Medic Vision Imaging Solutions Ltd. will showcase its SafeCT Enterprise solution at the upcoming ...
October 1, 2014 – Backus Hospital, Hartford Hospital, The Hospital of Central Connecticut, MidState Medical Center, and ...
September 29, 2014 — Before undergoing cardiac imaging procedures involving radiation, healthcare providers should help ...
Feature | Neil Singh, Ascendian Healthcare Consulting?
Patient radiation dose safety has become the latest buzzword. With the emerging regulations and mandates, technologies ...
Interventional thought leaders at the American College of Cardiology (ACC) 2014 meeting shared their predictions about ...
June 16, 2014 — Children with heart disease are exposed to low levels of radiation during X-rays, which do not ...
June 10, 2014 — A real-time monitoring device that beeps in the presence of high doses of radiation can help reduce ...
May 2, 2014 — The Society for Cardiovascular Angiography and Interventions (SCAI) announced the late-breaking clinic al ...
May 1, 2014 — Government regulations and JCAHO (Joint Commission) certification are driving providers to make purchasing ...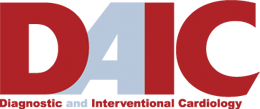 Subscribe Now