ESC
This channel contains news about the European Society of Cardiology (ESC), including coverage of its annual meeting and new guidelines. ESC is a leading resource for cardiology science and information in Europe.  
September 1, 2021 — The STOPDAPT-2 ACS trial does not support the use of one month of dual antiplatelet therapy (DAPT) ...
September 1, 2021 – The anticoagulant edoxaban (Savaysa) may be just as effective as warfarin for preventing heart ...
August 31, 2021 — Late-breaking data from a head-to-head clinical trial of the Amulet Left Atrial Appendage (LAA) ...
September 15, 2020 — Philips Healthcare recently introduced the latest addition to its portfolio of dedicated cardiovasc ...
September 10, 2020 - Icosapent ethyl (Vascepa) demonstrated significant, 17 percent regression of low attenuation plaque ...
September 8, 2020 - Heart patients hospitalized with COVID-19 (SARS-CoV-2) can safely continue taking angiotensin ...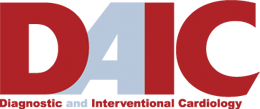 Subscribe Now