ESC
This channel contains news about the European Society of Cardiology (ESC), including coverage of its annual meeting and new guidelines. ESC is a leading resource for cardiology science and information in Europe.  
September 20, 2019 — Low-dose aspirin does not prolong disability-free survival of healthy people over 70, even in those ...
September 18, 2019 — Discharge of patients with suspected acute coronary syndromes under a 0- and 1-hour high ...
September 18, 2019 — AstraZeneca announced the U.S. Food and Drug Administration (FDA) has granted Fast Track ...
September 11, 2019 — The ever-present devices that seem to track all our moves can be annoying, intrusive or worse, but ...
September 10,2019 — The combination of ticagrelor and aspirin reduces ischemic events compared with aspirin alone in ...
September 10, 2019 — An international randomized trial has shown that complete revascularization reduces major ...
September 9, 2019 — Prasugrel is superior to ticagrelor for reducing ischemic events in patients with acute coronary ...
September 9, 2019 — More than 33,000 health professionals gathered over five days to attend the 2019 European Society of ...
September 9, 2019 — The drug Dapagliflozin was found to reduce death and hospitalization in patients who have heart ...
September 5, 2019 — Biotronik's ultrathin Orsiro stent demonstrated superiority over Xience with respect to target ...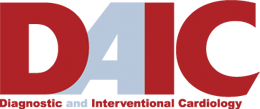 Subscribe Now