Heart Failure
This heart failure channel offers news and new technology to treat heart failure. This includes for new innovations to treat congestive heart failure (CHF). The channel includes news on HFpEF and HFrEF. Heart failure occurs when the heart is no longer able to pump as much blood as the body requires. This can lead to enlargement of the heart because the muscle works harder to supply blood, but the pumping is ineffective. This may be due to defects in the myocardium, such as an infarct, or due to structural issues such as severe valve regurgitation. The disease is divided into four New York Heart Association (NYHA) classes. Stage IV heart failure is when the heart is completely failing and requires a heart transplant  or a left ventricular assist device (LVAD).
View the July/August digital edition of Diagnostic and Interventional Cardiology (DAIC), including links to videos ...
July 12, 2022 — The Cardiovascular Research Foundation (CRF) and Fogarty Innovation announced today that they are ...
July 12, 2022 — Pesticides and heavy metals in soil may have detrimental effects on the cardiovascular system, according ...
July 11, 2022 — Rod was diagnosed with cancer, but it wasn't his most urgent medical issue. 
A few months after that ...
July 11, 2022 — Smoking traditional or non-combustible cigarettes while wearing a surgical mask results in a two-fold ...
July 7, 2022 — Tenaya Therapeutics, Inc., a biotechnology company with a mission to discover, develop and deliver ...
July 7, 2022 — A 5-year, $3.1 million grant from the National Heart, Lung and Blood Institute (NHLBI), part of the ...
July 6, 2022 — Atrial fibrillation (AF) is a prevalent cardiovascular condition with one of the highest rates of ...
Here is what you and your colleagues found to be most interesting in the field of cardiology during the month of June ...
June 30, 2022 — Before a baby is ever born, critical supply chain problems with nutrition and oxygen can result in ...
June 29, 2022 — A spiral wave of electrical activity in the heart can cause catastrophic consequences. One spiral wave ...
June 29, 2022 — Adult survivors of cancer have a higher risk of heart failure and other cardiovascular diseases (CVD) ...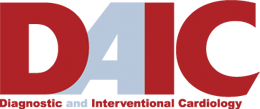 Subscribe Now