Heart Failure
This heart failure channel offers news and new technology to treat heart failure. This includes for new innovations to treat congestive heart failure (CHF). The channel includes news on HFpEF and HFrEF. Heart failure occurs when the heart is no longer able to pump as much blood as the body requires. This can lead to enlargement of the heart because the muscle works harder to supply blood, but the pumping is ineffective. This may be due to defects in the myocardium, such as an infarct, or due to structural issues such as severe valve regurgitation. The disease is divided into four New York Heart Association (NYHA) classes. Stage IV heart failure is when the heart is completely failing and requires a heart transplant  or a left ventricular assist device (LVAD).
January 13, 2021 — FineHeart, a preclinical-stage medical device company developing a novel left ventricular assist ...
December 21, 2020 — U.S. Food and Drug Administration (FDA) approved updated labeling December 17 for Abbott's HeartMate ...
December 2, 2020 — A 2-month-old infant diagnosed with COVID-19 (SARS-CoV-2) experienced reversible myocardial injury ...
December 2, 2020 — The Centers for Medicare and Medicaid Services (CMS) finalized updates to Medicare coverage policies ...
Here are some of the key takeaways from the late-breaking interventional cardiology and structural heart trials ...
Feature | Udi Nussinovitch M.D., Ph.D.
This is an overview of some of the biggest cardiology technology advances. These innovations are covered in more detail ...
October 2, 2020 — Cardiac Dimensions announced the company has closed a $17.5 million Series C financing that will be ...
September 23, 2020 – A team of cardiologists at Allegheny General Hospital (AGH), part of Allegheny Health Network (AHN) ...
September 8, 2020 - Heart patients hospitalized with COVID-19 (SARS-CoV-2) can safely continue taking angiotensin ...
The cardiology program at Tufts Medical Center in Boston is internationally recognized for being on the forefront of ...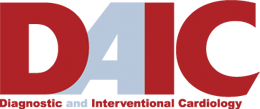 Subscribe Now