Hybrid OR
This channel includes news and new technology innovations connected with hybrid operating rooms, also referred to as hybrid ORs, hybrid cath labs or hybid interventional suites. These rooms combine catheterization lab and OR technologies and requirements fro both open surgical and transcatherer procedures.
November 10, 2016 — NeoChord Inc. announced the first use of its DS1000 System in the United States as it enrolled the ...
Brijeshwar Maini, M.D., and Brian Bethea, M.D., from Tenet Florida's structural heart program, explain the importance of ...
Angiographic imaging system vendors have developed new technologies to address emerging cath lab trends, including the ...
June 13, 2016 — GE Healthcare and Getinge Group announced the U.S. launch of a new, highly flexible angiography solution ...
January 6, 2016 — Corindus Vascular Robotics Inc. announced the launch of a CorPath robotic-assisted coronary ...
December 14, 2015 — As the field of interventional medicine grows, so do the challenges for clinicians to plan, guide ...
December 14, 2015 — The industry's first seamless integration of interventional radiology (IR) and CT technology into ...
October 14, 2015 — Claret Medical, an innovator in cardiovascular cerebral protection, Data presented this week at ...
October 15, 2015 — One-year patient outcomes from the PARTNER II trial showed the low rate of 30-day complications with ...
September 8, 2015 — In a new study reported in The Journal of Thoracic and Cardiovascular Surgery, researchers found a ...
August 21, 2015 — CompView Medical announced the release of the NuCART, a turn-key, all-in-one mobile boom system with ...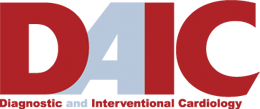 Subscribe Now