Hybrid OR
This channel includes news and new technology innovations connected with hybrid operating rooms, also referred to as hybrid ORs, hybrid cath labs or hybid interventional suites. These rooms combine catheterization lab and OR technologies and requirements fro both open surgical and transcatherer procedures.
May 2, 2014 — Medtronic Inc. revealed new data demonstrating positive outcomes for extreme risk patients with severe ...
April 16, 2014 — The U.S. District Court for the District of Delaware granted a preliminary injunction limiting the sale ...
March 6, 2014 — At age 88, Lena M. Smith visited her doctor, Larry Hunt, M.D., at the University of Alabama at ...
March 5, 2014 — Boston Scientific's Lotus transcatheter aortic valve repair (TAVR) system was implanted for the first ...
March 3, 2014 — Evena Medical, a developer of high-definition imaging for precision venous access, announced an ...
February 28, 2014 — The U.S. Food and Drug Administration (FDA) cleared IMRIS Inc.'s upgraded Visius Surgical Theatre ...
February 17, 2014 — A team of interventional cardiologists and cardiovascular surgeons at The University of Texas Health ...
January 17, 2014 — The U.S. Food and Drug Administration (FDA) granted U.S. market approval for Medtronic's self ...
January 6, 2014 — Barco, a visualization technology company, and Brainlab AG, Germany-based medical software technology ...
DAIC readers chose the following stories as the most popular content in 2013, based on website analytics. The list is ...
January 2, 2014 — St. Jude Medical Inc. received European CE mark approval for its 25 mm Portico Transcatheter Aortic
He
...
December 30, 2013 — A University of Alabama at Birmingham surgical team has performed the first surgery using a virtual ...
Feature | Peter Fail, M.D., FACC, FACP
Your patient is too sick for open-heart surgery, their aortic valve opening is narrowing, and without intervention, the ...
December 23, 2013 — Mobile Aspects announced that it has been awarded the patent for its iRISupply radiofrequency ...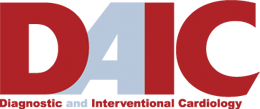 Subscribe Now