Hybrid OR
This channel includes news and new technology innovations connected with hybrid operating rooms, also referred to as hybrid ORs, hybrid cath labs or hybid interventional suites. These rooms combine catheterization lab and OR technologies and requirements fro both open surgical and transcatherer procedures.
March 11, 2015 — NDS Surgical Imaging (NDSsi) announced the release of the 27-inch Radiance Ultra, a next-generation ...
March 2, 1015 — CompView Medical (CVM) introduced an all-in-one equipment manager, visualization and ergonomic boom ...
Transcatheter aortic valve replacement (TAVR) is not only a breakthough minimally invasive medical therapy, but offers a ...
January 28, 2015 — Maquet Medical Systems USA announced an agreement to serve as the exclusive U.S. distributor of ...
December 23, 2014 — Ampronix reintroduced its Medvix line of near-patient surgical displays.
Ampronix's new models are ...
December 15, 2014 — As the first integration between Interventional Radiology (IR) and CT technology, Toshiba's Infinix ...
October 10, 2014—Mitralign Inc. reported on the successful use of its technology to perform a percutaneous repair on a ...
October 1, 2014 — St. Johns Hospital and Medical Center in Detroit recently became the first U.S. healthcare facility to ...
After several years of trials and increasing clinical use, transcatheter aortic valve replacement (TAVR) has reached a ...
St. John Hospital currently performs about 2,000 percutaneous coronary and peripheral interventions and 400 open-heart ...
Case Study | Atman P. Shah, M.D. and Sandeep Nathan, M.D., The University of Chicago
Mr. KH is a 58-year-old male with a past medical history of hypertension and tobacco abuse who presented to the  ...
May 20, 2014 — It is possible to use 3-D printer technology to create some types of customized medical devices on demand ...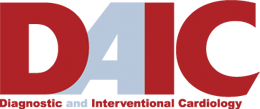 Subscribe Now