Structural Heart
This structural heart channel includes news, videos, podcasts and other content related to diagnosis and treatment of structural heart disease. Topics covered include heart valve repair and replacement, transcatheter aortic valve replacement (TAVR), transcatheter mitral valve replacement (TMVR), transcatheter tricuspid valve replacement (TTVR), left atrial appendage (LAA) occlusion, heart failure interventional device therapies, and closing holes in the heart using, including occlusion of atrial septal defects (ASDs), ventricular septal defects (VSDs) and patent foramen ovales (PFOs).
January 6, 2023 — Patients with congenital heart diseases often suffer from obstructions in the right ventricular ...
As 2022 comes to a close, the Diagnostic and Interventional Cardiology team takes a look at the year's most viewed ...
The DAIC team wishes you a very happy and safe New Year! 
December 30, 2022 — The Smidt Heart Institute at Cedars-Sinai welcomes four new specialists to its Department of ...
December 14, 2022 — Edwards Lifesciences identified the top data releases from 2022 that contributed most to shaping ...
December 12, 2022 —  Edwards Lifesciences Corporation announced that following regular succession planning discussions ...
December 2, 2022 —  Boston Scientific Corporation has announced the first results from the ACURATE neo2 Post Market ...
November 30, 2022 — Medtronic's newest generation self-expanding, transcatheter aortic valve replacement (TAVR) system ...
November 22, 2022 — CroíValve has announced the successful First in Human implants of its DUO Tricuspid Coaptation Valve ...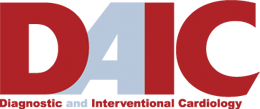 Subscribe Now