Structural Heart
This structural heart channel includes news, videos, podcasts and other content related to diagnosis and treatment of structural heart disease. Topics covered include heart valve repair and replacement, transcatheter aortic valve replacement (TAVR), transcatheter mitral valve replacement (TMVR), transcatheter tricuspid valve replacement (TTVR), left atrial appendage (LAA) occlusion, heart failure interventional device therapies, and closing holes in the heart using, including occlusion of atrial septal defects (ASDs), ventricular septal defects (VSDs) and patent foramen ovales (PFOs).
The Photo Gallery includes images taken by DAIC's editorial team at the 34th Transcatheter Cardiovascular Therapeutics ( ...
September 26, 2022 — Medtronic plc, a global leader in medical technology, announced U.S. Food and Drug Administration ( ...
September 20, 2022 — Results of the first randomized controlled trial to directly compare two contemporary transcatheter ...
September 17, 2022 — Abbott today announced data from five late-breaking presentations showing the benefits of its ...
September 17, 2022 — Medtronic today announced findings from its Pathological Study of Hypo-Attenuated Leaflet ...
September 15, 2022 — Cardiac Implants LLC has announced the successful initial deployment of its Annuloplasty ring with ...
September 14, 2022 — Minimally invasive, catheter-based transcatheter aortic valve replacement (TAVR) has revolutionized ...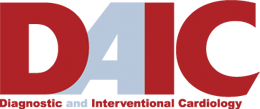 Subscribe Now