Some of the new devices technologies to treat heart failure that are either in clinical trials or were recently cleared by the U.S. FDA. 
There are several new tools being added to the clinical armamentarium in the fight against heart failure (HF). These advances in implantable HF technologies offer new approaches to more effectively treat both heart failure with reduced ejection fraction (HFrEF) or preserved ejection fraction (HFpEF). 
Several new devices were recently cleared by the U.S. Food and Drug Administration (FDA), or are working their was through pivotal clinical studies for FDA submission. These include two types of atrial shunt devices, two types of transcatheter left ventricular (LV) remodeling technologies, two types of pacemaker-like devices to relieve HF symptoms, a new implantable pulmonary artery (PA) pressure sensor system, and a percutaneous hemodynamic support device designed specifically for HF.
Below is an update on some of these new technologies and drugs. 
New Heart Failure Devices
• HeartMate 3 Cleared for Destination Therapy and New Implant Method: The FDA in January 2020 cleared a new alternative surgical technique for Abbott's HeartMate 3 heart pump that will allow more advanced heart failure patients to avoid open heart surgery. The new, less invasive approach is designed to provide surgeons a choice in surgical method for patients receiving the HeartMate 3 Left Ventricular Assist Device (LVAD). The approval is based on two studies – the ELEVATE study: a multi-center, voluntary, observational registry collecting post-marketing data, and the LAT Feasibility study: a single arm, prospective, multi-center study. Results of the two trials found that bleeding (requiring surgery), infection and arrhythmias were lower in the group implanted via the less-invasive surgical approach than those who underwent open-heart surgery.
The FDA also cleared the HeartMate 3 in October 2018 as a destination therapy for people living with advanced heart failure. With the approval, physicians can now offer the HeartMate 3 system to patients not eligible for a transplant who will live with their device for the rest of their lives.
• Precardia SVC occulsion balloon may rest the heart: Research at Tufts Medical Center has shown temporary occlusion of the superior vena cava (SVC) appears to help reset the heart to normal function in heart failure patients. Navin Kapur, M.D., FAHA, FACC, FSCAI, executive director, The CardioVascular Center for Research and Innovation (CVCRI), and director of Cardiac Biology Research Center, Molecular Cardiology Research Institute (MCRI), Tufts Medical Center, is currently involved in the FDA VENUS-HF trial using the PreCardia Inc. device pioneered at Tufts Medical Center.
Results from a first-in-man proof of concept study presented at Society for Cardiovascular Angiography and Interventions (SCAI) 2019 Scientific Sessions found occlusion of the SVC rapidly and effectively reduces pressure and volume in the heart. This is the first study targeting the SVC as a therapeutic area for heart failure patients to reduce cardiac filling pressures without reducing cardiac output or systemic blood pressure. 
After five minutes of SVC occlusion heart pressures became normal, systemic blood pressure stayed stable and heart function was stable. In the last three patients, a second SVC occlusion was performed for 10 minutes with similar hemodynamic findings. After seven days of followup for all eight patients and 30-day followup for five patients, no neurologic or vascular consequences were reported.
Watch the VIDEO: Occluding the SVC as a Reset Button in Heart Failure — Interview with Navin Kapur, M.D.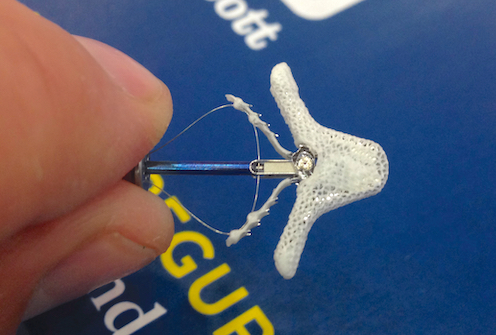 • MitraClip: In March 2019, the FDA added a new indication for the Abbott MitraClip transcatheter mitral valve repair device.  It can now be used to treat patients with heart failure symptoms and moderate-to-severe or severe mitral regurgitation (MR) due to diminished left heart function, commonly known as secondary or functional (SMR or FMR), despite optimal medical therapy. 
The three-year results from the COAPT Trial presented at the 2019 Transcatheter Cardiovascular Therapeutics (TCT) meeting demonstrated that reducing severe SMR with the MitraClip is safe and improves prognosis in selected heart failure patients. In addition, those patients that crossed over and received the MitraClip after 24 months showed the same benefits as those who received the device at the beginning of the study. Patients with left ventricular (LV) dysfunction and HF who develop severe SMR have a poor prognosis with high rates of mortality and HF hospitalization. COAPT was heralded as a breakthrough trial, showing HF patients can be treated and gain durable reduction in MR, reduced the rate of HF hospitalizations and improved survival compared to medical therapy alone.
VIDEO: Impact of the COAPT Trial on Heart Failure Patients With Functional Mitral Regurgitation — Interview with Andreas Brieke, M.D.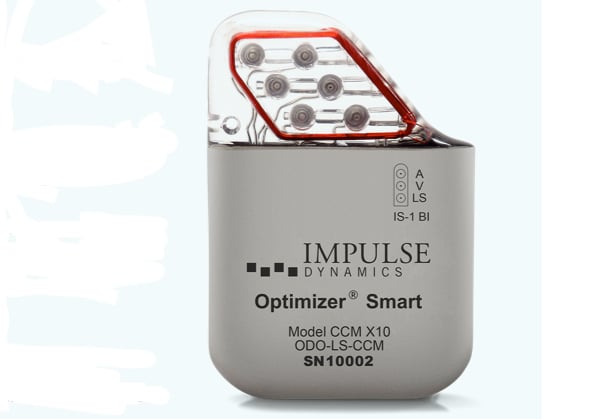 • Optimizer Smart System for cardiac contractility modulation (CCM): In March 2019, the FDA cleared the Impulse Dynamics Optimizer Smart System for delivering CCM therapy. The implantable pacemaker-like device is used for treating chronic HF by strengthening the hearts ability to contract and help it beat more forcibly. In December 2019, the company completed $80.25 million in financing to facilitate U.S. commercialization.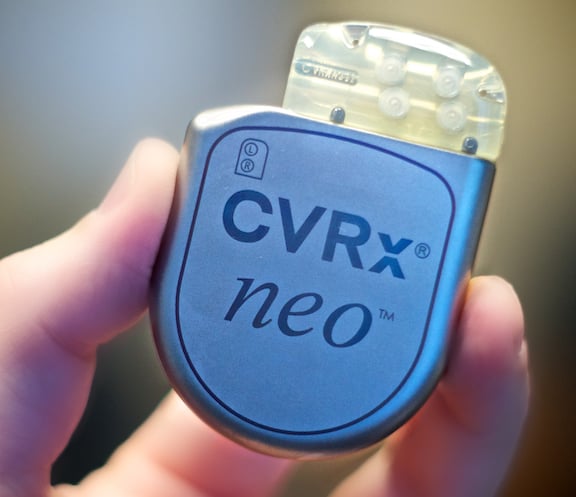 • Barostim Neo System: The FDA cleared this implantable pacemaker-like pulse-generator in August 2019. It has leads that deliver electrical impulses to the baroreceptors around the carotid artery, which sense how blood is flowing through the carotid arteries and relays information to the brain. The brain, in turn, sends signals to the heart and blood vessels that relax the blood vessels and inhibit the production of stress-related hormones to reduce heart failure symptoms.
The CVRx Inc. Barostim Neo System is indicated for patients who have a regular heart rhythm, are not candidates for cardiac resynchronization therapy, and have a left ventricular ejection fraction (the total amount of blood pumped out in each heart beat) of less than or equal to 35 percent, which is considered below the normal ejection fraction of 55 to 75 percent.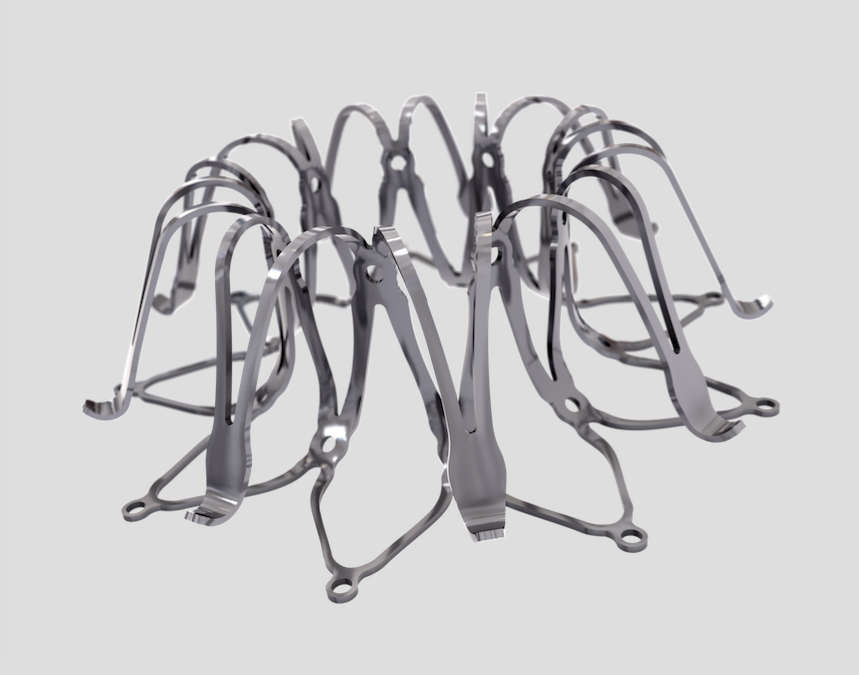 • Corvia's InterAtrial Shunt Device (IASD): This is a transcatheter implant shunt device between the left and right atrium. It forms a passage the that enables the left atrium to decompress at rest and during physical activity, with the aim of lowering left atrial pressure in HF patients. It has European approval to treat HFpEF or mid-range ejection fraction (HFmrEF). The company is now enrolling patients in the REDUCE LAP-HF TRIAL II U.S. pivotal trial. The study will include about 600 patients that will be followed for five years. The study includes collecting and analyzing biosensor data with a continuous remote monitoring platform.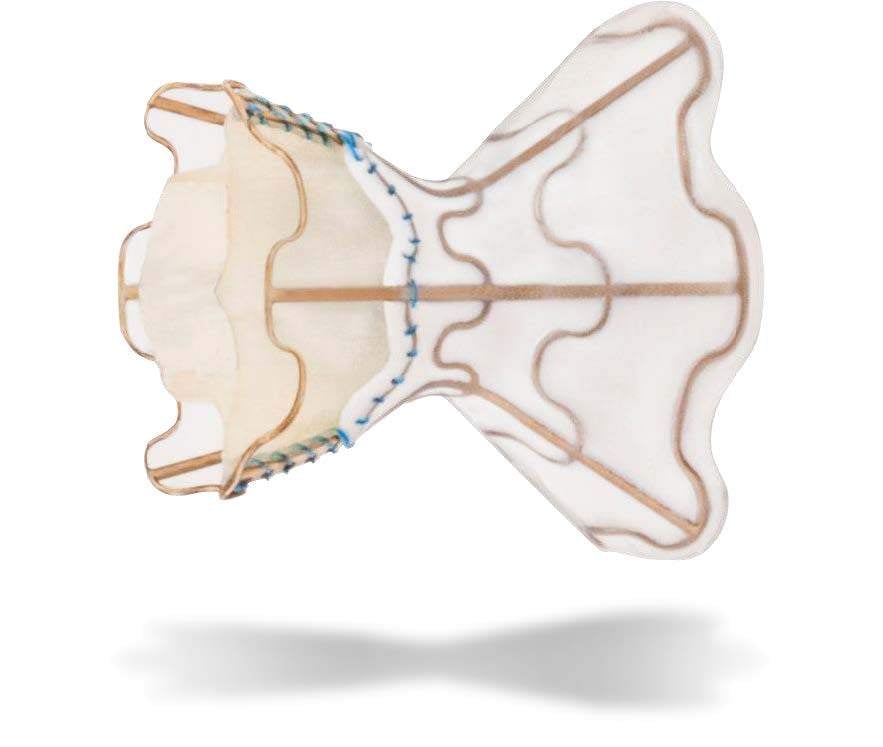 • V-Wave InterAtrial Shunt Device: V-Wave's implantable interatrial shunt to treat HF and pulmonary arterial hypertension (PAH) will soon be entering a FDA pivotal study. The company also began a global, randomized, controlled, double-blinded multicenter clinical trial, the RELIEVE-HF study in Class III or ambulatory Class IV HF patients with preserved or reduced ejection fraction already receiving optimal therapies.
Renowned heart failure cardiologist William T. Abraham, M.D., left his long-time position at the Ohio State University to become V-Wave's as chief medical officer in March 2019. He was involved in or the principle investigator for several of the large heart failure trials in recent years.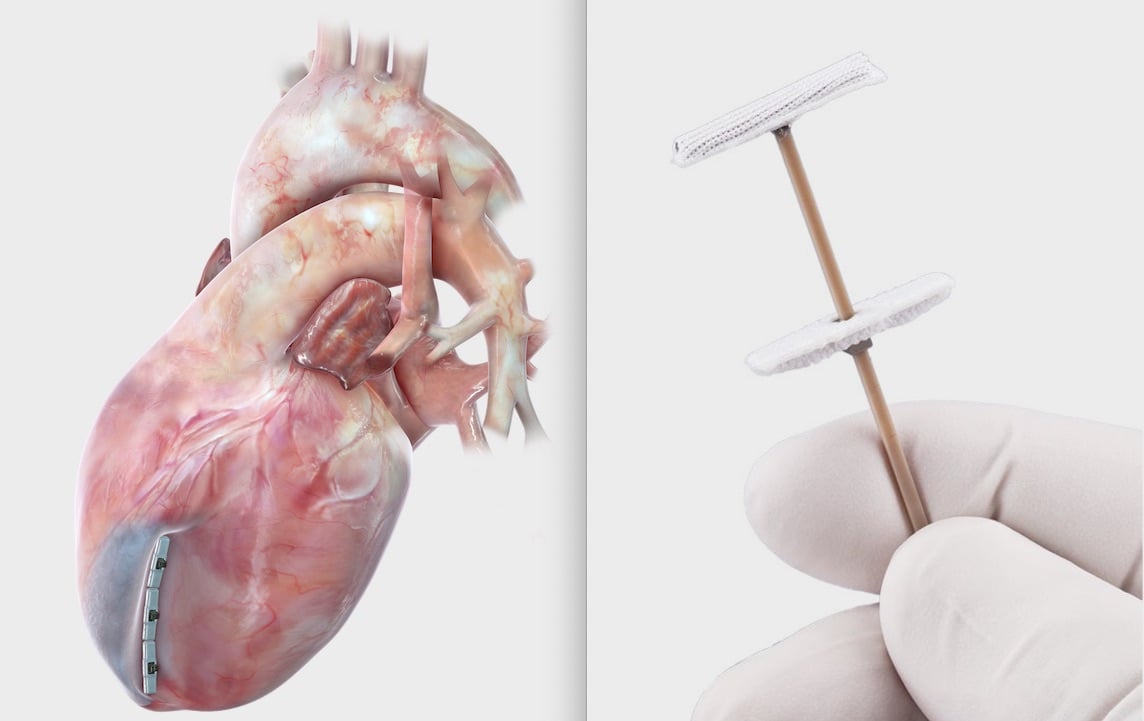 • BioVentrix Revivent TC System: About 50 percent of patients treated with percutaneous coronary intervention (PCI) still develop large LV scars, which cause the heart to dilate. Surgical, positive remodeling of the heart can improve LV function and heart failure symptoms, but it is highly invasive. The Revivent TC uses a catheter-based system, where an anchor is placed in the septum and has a cord attached to a second anchor on the outside of the ventricle. The cord is pulled to cinch in the infarct area of the myocardium and remodel the ventricle. The 89-patient study resulted in significant and sustained reduction of LV volumes and improvement of LV function, symptoms and quality of life. 
Positive one-year results were reported in December 2019 from the European CE mark study of the Revivent TC System in the European Journal of Heart Failure.[1]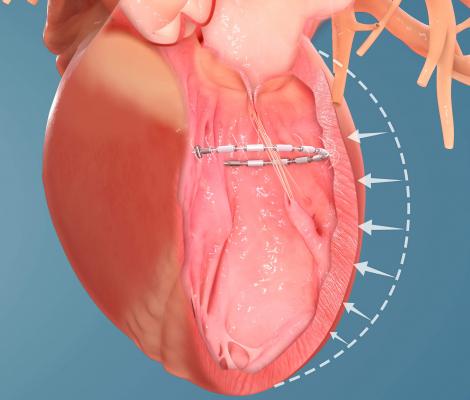 • Ancora Heart AccuCinch Ventricular Repair System: The AccuCinch system looks like a "C" shaped wire that is placed along the inside wall of left ventricle and held in place by small anchors in the myocardium. The wire is then cinched tight to remodel the LV to improve pumping ability. An interim analysis at TCT 2019 for the first 31 patients in the CorCinch first-in-man, U.S. early feasibility study found the device for the treatment of systolic heart failure reduced LV volume by an average of 23 percent. Ejection fraction improved on average from 31 percent to 39 percent over the same period.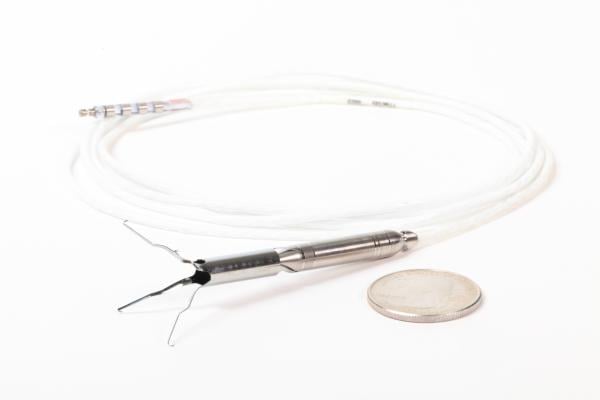 • Procyrion Aortix percutaneous hemodynamic support device: Procyrion Inc. received the FDA Breakthrough Device designation in July 2019 for its Aortix System circulatory support device. It is for chronic HF patients on medical management who have been hospitalized for acute decompensated heart failure (ADHF) with worsening renal function. Through the breakthrough program, Procyrion will be granted prioritized review of its FDA submissions. In addition, the Centers for Medicare and Medicaid Services (CMS) recently proposed a new rule that would provide coverage and increase payments for medical devices designated by the FDA as breakthrough devices, so Medicare beneficiaries do not have to wait for access to the latest innovations. 
VIDEO: Advances in Interventional Heart Failure Hemodynamic Support — Interview with Manesh Patel, M.D.
Reducing Economic Burden of Cardiorenal Syndrome With The Aortix Pump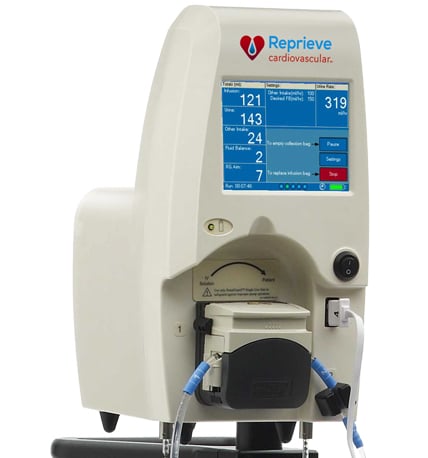 • Personalized Volume Management System (PVM):  Results were presented in 2019 for the first-in-human clinical trial with the Reprieve Cardiovascular second generation device for fully automated fluid management system resulted in safe, effective, efficient and long-lasting decongestion for patients with acute heart failure. The system had an average net fluid removal of 5.9 L/therapy, normalized to 4.5 L/24 hour. Average patient weight loss after mean treatment duration of 31 hours was 6.8 kg. There were no readmissions of patients who completed the 30-day follow-up.
 
• Cordella Pulmonary Artery (PA) Pressure Sensor System: Endotronix presented positive first-in-human data on the Cordella PA Pressure Sensor at the 2019 American Heart Association (AHA) scientific sessions. High patient compliance (>98%) was reported for the daily remote measurements of vital signs and PA pressure throughout the study. The system provides a comprehensive health status of the patient at home with easy-to-use tools to securely collect and share health related data with healthcare providers for trend-based management. PA pressure data is proactively delivered to improve patient care between office visits and support reimbursement for care delivery activities.
New Heart Failure Drugs
Until recently, HFpEF treatment recommendations are mere symptom relief. However, SGLT2 inhibitors, a class of medications used in the treatment of type 2 diabetes, is now being explored in HFpEF. In October 2019. The FDA granted market clearance for AstraZeneca's dapagliflozin (Farxiga) to reduce the risk of hospitalization for HF in adults with type 2 diabetes and established cardiovascular disease or multiple cardiovascular risk factors. The approval is based on results from the landmark DECLARE-TIMI 58 CV outcomes trial (CVOT).[2] 
"DECLARE-TIMI 58 is a landmark trial, offering compelling evidence that dapagliflozin can reduce the risk of heart failure in patients living with type 2 diabetes with multiple risk factors for or established cardiovascular disease," explained Stephen Wiviott, M.D., associate professor of cardiovascular medicine, Brigham and Women's Hospital and Harvard Medical School, Boston, and a senior investigator with the TIMI Study Group and co-principal investigator of the trial. "These data could help change the way we approach diabetes management – going beyond a singular focus on glucose control to help address the risk of heart failure in a diverse population of patients."
In September 2019, the FDA granted Fast Track designation for dapagliflozin to reduce the risk of cardiovascular death, or the worsening of heart failure in adults with HFrEF or HFpEF based on the DAPA-HF and DELIVER phase III trials.[3-5] Those studies found the drug reduced death and hospitalization in patients who have HFrEF with and without diabetes. 
Merck announced results from its Phase 3 VICTORIA Study evaluating the efficacy and safety of vericiguat at the American heart Association (AHA) 2019 meeting. The study met the primary efficacy endpoint for reducing the risk of HF hospitalization and cardiovascular death in patients with worsening chronic HFrEF. The new drug outperformed patients given a placebo in combination with available heart failure therapies. 
Related Heart Failure Content:
3 New Approaches to Reduce Heart Failure Readmissions
Device Technologies to Reduce Heart Failure Readmissions
Key Heart Failure Takeaways at AHA 2019 - Overview from Nasrien Ibrahim, M.D.
Reducing Economic Burden of Cardiorenal Syndrome With The Aortix Pump
Outlining How Artificial Intelligence May Help Adhere to Cardiac Care Guidelines
VIDEO: Predictors and Outcomes of Reverse Remodeling in Heart Failure With Reduced Ejection Fraction — Interview with James Januzzi, M.D.
VIDEO: Therapies for Advanced Heart Failure — Interview with David Lanfear M.D.
VIDEO: Cutting Heart Failure Length of Stay With Information Technology at Mercy Health System
VIDEO: Population Health to Identify High Risk Cardiovascular Patients at the University of Mississippi
References:
1. Patrick Klein, Stefan D. Anker, Andrew Wechsler, et al. Less invasive ventricular reconstruction for ischaemic heart failure. European Journal of Heart Failure. Published online Dec 3, 2019. https://doi.org/10.1002/ejhf.1669.
2. Furtado R.H.M., Bonaca M.P., Raz I., et al. Dapagliflozin and Cardiovascular Outcomes in Patients with Type 2 Diabetes and Prior Myocardial Infarction: A Sub-analysis From DECLARE TIMI-58 Trial. Circulation, March 18, 2019. https://doi.org/10.1161/CIRCULATIONAHA.119.039996.
3. Stephen D. Wiviott, Itamar Raz, Marc P. Bonaca, et al. Dapagliflozin and Cardiovascular Outcomes in Type 2 Diabetes. January 24, 2019. N Engl J Med 2019; 380:347-357. DOI: 10.1056/NEJMoa1812389.
4. McMurray JJV, DeMets DL, Inzucchi SE, et al. A trial to evaluate the effect of the sodium-glucose co-transporter 2 inhibitor dapagliflozin on morbidity and mortality in patients with heart failure and reduced left ventricular ejection fraction (DAPA-HF). Eur J Heart Fail. 2019;21:665–675. doi: 10.1002/ejhf.1432.
5. McMurray JJV, DeMets DL, Inzucchi SE, et al. The Dapagliflozin And Prevention of Adverse-outcomes in Heart Failure (DAPA-HF) trial: baseline characteristics. Eur J Heart Fail. 2019. doi:10.1002/ejhf.1548.
 
---
If you enjoy this content, please share it with a colleague