Cardiovascular Clinical Studies
This channel includes news and new technology innovations from cardiovascular clinical trials. These clinical studies include all cardiac subspecialties.
September 8, 2023 — Patients of African ancestry with dilated cardiomyopathy (DCM) are less likely to have clinically ...
September 6, 2023 — Magenta Medical, developer of the Elevate heart pump system, an FDA Designated Breakthrough Device ...
September 5, 2023 — New long-term follow-up results from two Phase 3 studies evaluating CAMZYOS (mavacamten), a first-in ...
September 5, 2023 — New data from the BIOMAG-I first-in-human trial shed light on the vascular healing process following ...
August 31, 2023 — Atrial fibrillation ablation is associated with lower rates of death, urgent heart transplantation or ...
August 31, 2023 — Early extracorporeal life support (ECLS) does not improve survival in patients with acute myocardial ...
August 30, 2023 — BIOFLOW-DAPT one-year-data demonstrated non-inferiority and a good safety profile for the Orsiro ...
August 28, 2023 — Is the routine implantation of an implantable cardioverter defibrillator (ICD) in myocardial ...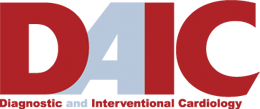 Subscribe Now