Cardiovascular Clinical Studies
This channel includes news and new technology innovations from cardiovascular clinical trials. These clinical studies include all cardiac subspecialties.
June 1, 2023 — New insights from the TWILIGHT trial showed that ticagrelor monotherapy after three months of ticagrelor ...
It's been a fruitful month for DIcardiology.com! Here's a look at what DAIC viewers found to be most interesting during ...
May 31, 2023 — Cytomegalovirus (CMV) is one of the most prevalent herpesviruses worldwide. Depending on the geographical ...
May 25, 2023 — New data presented from an investigator-sponsored European trial found managing indicated1 heart failure ...
May 26, 2023 — Atrial fibrillation, or AFib , is the most common heart rhythm problem, affecting millions of Americans ...
May 25, 2023 — Boston Scientific Corporation announced data supporting use of the company's key electrophysiology and ...
May 24, 2023 — The largest interventional study focused on pulmonary embolisms highlighted importance of rapid removal ...
May 23, 2023 — The diagnosis of  heart failure is usually missed, denying patients treatments that could improve ...
May 23, 2023 — The first investigator-initiated study of remote pulmonary artery pressure monitoring has found that it ...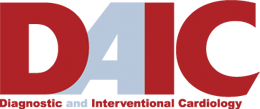 Subscribe Now