Cardiovascular Clinical Studies
This channel includes news and new technology innovations from cardiovascular clinical trials. These clinical studies include all cardiac subspecialties.
August 3, 2023 — Merit Medical Systems, a leading global manufacturer and marketer of healthcare technology, today ...
August 1, 2023 —LEXEO Therapeutics, a clinical-stage gene therapy company advancing adeno-associated virus (AAV)-based ...
July 31, 2023 — Applying AI to a single apical four chamber (A4C) view echocardiogram provides accurate information to ...
July 28, 2023 — Respective results from the REVEALPLAQUE, DECODE, and SMART-CT clinical studies demonstrate the accuracy ...
July 25, 2023 — A multi-institutional team of scientists led by Dr. Mario Gaudino, the Stephen and Suzanne Weiss ...
July 24, 2023 — BioCardia, Inc., a developer of cellular and cell-derived therapeutics for the treatment of ...
July 20, 2023 — The first patients in France and the USA have been enrolled into the large-scale WE-TRUST* multicenter ...
July 19, 2023 — Ischemic stroke, which occurs when a blood vessel in the brain gets blocked by a clot, is among the ...
July 18, 2023 — The TIMELY consortium announced today the enrollment of the first patient in the randomized controlled ...
July 14, 2023 — In recent years, transcatheter intervention techniques have emerged as a promising alternative for the ...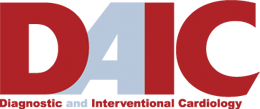 Subscribe Now