Cardiovascular Clinical Studies
This channel includes news and new technology innovations from cardiovascular clinical trials. These clinical studies include all cardiac subspecialties.
July 12, 2023 — In a late breaking trial session during EuroPCR 2023 in Paris, on behalf of the HOST-IDEA study ...
July 7, 2023 — Atrial fibrillation (AFib) is the most common type of heart arrhythmia. This serious condition occurs ...
July 5, 2023 — With heart disease the most common cause of death worldwide, researchers have attempted to quantify how ...
June 28, 2023 — Liver disease, the UK's third leading cause of premature death, poses a significantly greater threat to ...
June 26, 2023 — InspireMD, Inc., developer of the CGuard Embolic Prevention Stent System (EPS) for the prevention of str ...
June 22, 2023 — An estimated 3 million patients visit emergency departments each year with acute chest pain and mildly ...
June 16, 2023 — Endologix LLC, a privately held, global medical device company, dedicated to providing disruptive ...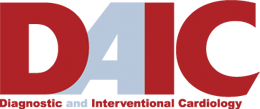 Subscribe Now