Cardiovascular Clinical Studies
This channel includes news and new technology innovations from cardiovascular clinical trials. These clinical studies include all cardiac subspecialties.
May 19, 2023 — Abbott announced late-breaking data that add to the body of clinical evidence supporting the benefits of ...
May 18, 2023 — Vektor Medical, pioneers of technology to accurately map arrhythmias using only 12-lead ECG data ...
May 17, 2023 — Elixir Medical has reported that important data were presented at a late-breaking clinical session during ...
May 12, 2023 — The US FDA has granted an Investigational Device Exemption (IDE) approval for Concept Medical Inc's novel ...
May 11, 2023 — Adults in their 20s and 30s with mental disorders have an up to three-fold elevated likelihood of a heart ...
May 10, 2023 — A small randomized trial in patients with post-COVID syndromehas found that hyperbaric oxygen therapy ...
May 10, 2023 — A new study has shown that women are underrepresented in late-breaking cardiovascular clinical trials ...
May 4, 2023 — What if you could predict if-or when-your patient might experience a heart attack, cardiac arrest or ...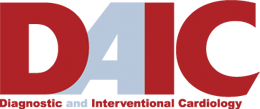 Subscribe Now