February 24, 2023 — Biotronik announced that it has received CE approval for the Selectra 3D implant tools to include ...
February 14, 2023 — Biosense Webster, Inc., a global leader in cardiac arrhythmia treatment and part of Johnson & ...
February 2, 2023 — Abbott today announced two approvals as part of its growing suite of electrophysiology products in ...
February 2, 2023 — Technology is continuously evolving, and so is the approach taken by transplant cardiologists at Memo ...
Here is a recap of what DAIC viewers found most interesting during the month of January:
1. A Dietary Supplement ...
January 31, 2023 — Serotonin can impact the mitral valve of the heart and potentially accelerate a cardiac condition ...
January 27, 2023 — The first US patient has been enrolled at Medstar Washington Hospital Center in the SELUTION4ISR ...
January 23, 2023 — A study of more than 100,000 patients has revealed that, for patients with blockages in multiple ...
January 23, 2023 — Imperative Care, Inc., announced U.S. Food and Drug Administration (FDA) 510(k) clearance of its Zoom ...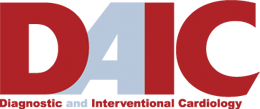 Subscribe Now