FFR Technologies
This channel includes news and new technology innovations for fractional flow reserve (FFR) wires, catheters and systems used to measure blood flow across a coronary lesion to determine if a stent is needed or if the plaque stenosis can be treated medically. The section includes iFR, instantaneous wave-free ratio, systems used in the cath lab and noninvasive FFR technologies including computed tomography-FFR. This is also referred to as CT-FFR or FFR-CT.
July 12, 2018 — CathWorks announced the approval of a new Current Procedural Terminology (CPT) code 0523T for non ...
July 3, 2018 — HeartFlow Inc. announced that UnitedHealthcare now covers the HeartFlow FFRct Analysis, extending access ...
May 29, 2018 — Ongoing controversy exists regarding the role of percutaneous coronary intervention (PCI) for stable ...
May 29, 2018 — The first placebo-controlled trial that looked at how fractional flow reserve (FFR) and instantaneous ...
May 22 2018 — Pie Medical Imaging announced that clinical data on its CAAS vFFR (Cardiovascular Angiographic Analysis ...
The European interventional cardiology market is currently valued at nearly $1.4 billion. This is a mature market that ...
April 25, 2018 — HeartFlow Inc. announced that the National Health Service (NHS) England has chosen the HeartFlow FFRct ...
March 13, 2018 –  HeartFlow, Inc. today announced that it has entered into a licensing and technology transfer agreement ...
March 12, 2018 — Philips announced health economic results from the DEFINE FLAIR clinical trial comparing cost ...
February 1, 2018 – HeartFlow announced that seven new commercial payers issued positive medical policies covering the ...
Here is a list of what I think were some of the top interventional technologies discussed at the 2017 Transcatheter ...
December 28, 2017 — HeartFlow Inc. announced that Health Care Service Corp. (HCSC), which operates Blue Cross and Blue ...
DAIC Editor Dave Fornell shows some of the innovations displayed on the expo floor at the 2017 Transcatheter ...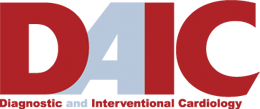 Subscribe Now