FFR Technologies
This channel includes news and new technology innovations for fractional flow reserve (FFR) wires, catheters and systems used to measure blood flow across a coronary lesion to determine if a stent is needed or if the plaque stenosis can be treated medically. The section includes iFR, instantaneous wave-free ratio, systems used in the cath lab and noninvasive FFR technologies including computed tomography-FFR. This is also referred to as CT-FFR or FFR-CT.
February 1, 2018 – HeartFlow announced that seven new commercial payers issued positive medical policies covering the ...
Here is a list of what I think were some of the top interventional technologies discussed at the 2017 Transcatheter ...
December 28, 2017 — HeartFlow Inc. announced that Health Care Service Corp. (HCSC), which operates Blue Cross and Blue ...
DAIC Editor Dave Fornell shows some of the innovations displayed on the expo floor at the 2017 Transcatheter ...
November 10, 2017 — GE Healthcare and Dutch-based cardiovascular imaging software provider Medis announced at the 2017 ...
November 8, 2017 — Investigators in the FAVOR II China and FAVOR II Europe-Japan studies recently presented their ...
November 6, 2017 — Three-year data from the FAME 2 study show patients with coronary artery disease who underwent a ...
November 6, 2017 – The Centers for Medicare & Medicaid Services (CMS) has finalized a New Technology Ambulatory Payment ...
November 3, 2017 — Acist Medical Systems Inc., a Bracco Group Company, announced the global launch of its Acist RXi Mini ...
October 26, 2017 — Corindus Vascular Robotics Inc. announced that it will incorporate the HeartFlow FFRct (fractional ...
August 28, 2017 — Philips Healthcare and HeartFlow Inc. announced they entered into a collaboration agreement to improve ...
August 9, 2017 — HeartFlow Inc. announced that four Blue Cross Blue Shield companies have each issued a positive medical ...
The gold standard for assessing the hemodynamic significance of coronary lesions to determine if they should be ...
July 12, 2017 — The American Medical Association (AMA) has granted a Category III Tracking Code for estimated coronary ...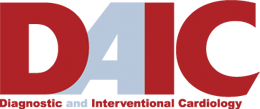 Subscribe Now