FFR Technologies
This channel includes news and new technology innovations for fractional flow reserve (FFR) wires, catheters and systems used to measure blood flow across a coronary lesion to determine if a stent is needed or if the plaque stenosis can be treated medically. The section includes iFR, instantaneous wave-free ratio, systems used in the cath lab and noninvasive FFR technologies including computed tomography-FFR. This is also referred to as CT-FFR or FFR-CT.
May 19, 2016 — St. Jude Medical Inc. announced results from two cardiovascular clinical trials presented at EuroPCR 2016 ...
April 28, 2016 — Abbott and St. Jude Medical Inc. announced a definitive agreement for Abbott to acquire St. Jude ...
Fractional flow reserve-computed tomography (FFR-CT) is still in the early stages of clinical implementation in the ...
A discussion on the adoption rate of FFR-CT with Dr. Campbell Rogers, chief medical officer of HeartFlow. It is the ...
April 5, 2016 — Philips announced that a combined total of more than 5,000 patients have been enrolled in three ...
April 5, 2016 — Novel technology developed by HeartFlow Inc. significantly reduces the need for invasive procedures to ...
DAIC readers chose the following stories as the most popular content in 2015, based on website analytics. The list is ...
Tom Watson, clinical analyst for MDBuyLine, and DAIC Editor Dave Fornell discuss some of the new cardiovascular and ...
October 18, 2015 — New results from a multicenter, prospective study show that assessing fractional flow reserve ...
October 5, 2015 — Beaumont Hospital - Royal Oak is the first in Michigan and one of just a handful in the United States ...
September 9, 2015 — St. Jude Medical Inc. announced that five-year results from the FAME trial have confirmed the long ...
August 28, 2015 — Philips Healthcare is showcasing its latest cardiology solutions at the European Society of Cardiology ...
August 21, 2015 — Loyola University Medical Center is the first and only hospital in Illinois to offer a new ...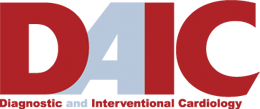 Subscribe Now