FFR Technologies
This channel includes news and new technology innovations for fractional flow reserve (FFR) wires, catheters and systems used to measure blood flow across a coronary lesion to determine if a stent is needed or if the plaque stenosis can be treated medically. The section includes iFR, instantaneous wave-free ratio, systems used in the cath lab and noninvasive FFR technologies including computed tomography-FFR. This is also referred to as CT-FFR or FFR-CT.
May 31, 2017 — Acist Medical Systems Inc. announced results from the ACIST-FFR Study demonstrating the consistent and ...
May 30, 2017 — Early results from the independent, physician-sponsored FFR-Search Registry revealed an association ...
MDBuyline analyst Tom Watson shares some of the most important trends in cardiac technology he saw at the 2017 American ...
March 27, 2017 — Patients experiencing a major heart attack often have more than one clogged artery, but under current ...
March 24, 2017 — At the 2017 American College of Cardiology's Annual Scientific Session & Expo (ACC.17), Philips ...
March 20, 2017 — For patients experiencing angina (chest pain) or a heart attack, instantaneous wave-free ratio (iFR) ...
February 14, 2017 — The National Institute for Health and Care Excellence (NICE) in the United Kingdom recently issued g ...
DAIC Editor Dave Fornell takes a video tour of some of the most innovative new interventional cardiology technologies he ...
October 26, 2016 — Philips recently announced its latest image guidance solutions to be featured at the 2016 ...
October 10, 2016 — St. Jude Medical Inc. announced the U.S. clearance and launch of the company's new PressureWire X ...
August 17, 2016 — Corindus Vascular Robotics Inc. and Acist Medical Systems Inc. are providing Fairview Southdale ...
June 29, 2016 — HeartFlow Inc. announced that it is launching its next generation of the HeartFlow FFR-CT Analysis. The ...
May 19, 2016 — St. Jude Medical Inc. announced results from two cardiovascular clinical trials presented at EuroPCR 2016 ...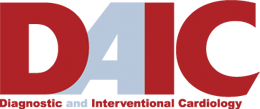 Subscribe Now