FFR Technologies
This channel includes news and new technology innovations for fractional flow reserve (FFR) wires, catheters and systems used to measure blood flow across a coronary lesion to determine if a stent is needed or if the plaque stenosis can be treated medically. The section includes iFR, instantaneous wave-free ratio, systems used in the cath lab and noninvasive FFR technologies including computed tomography-FFR. This is also referred to as CT-FFR or FFR-CT.
The fingerprints of value-added medicine were all over products and works-in-progress on the exhibit floor of the annual ...
Reflecting a trend toward the increased use of computed tomography (CT) in cardiology, Siemens Healthineers launched a ...
March 5, 2019 –  The U.S. Food and Drug Administration (FDA) cleared Abbott's Resting Full-cycle Ratio (RFR) ...
December 21, 2018 — CathWorks announced that its FFRangio System received U.S. Food  and Drug Administration (FDA) ...
October 4, 2018 — The late-breaking FAST-FFR Trial demonstrated that the sensitivity and specificity of the CathWorks ...
October 1, 2018 — Here is the list of the most popular content on the Diagnostic and Interventional Cardiology (DAIC) ...
September 20, 2018 — At the Transcatheter Cardiovascular Therapeutics (TCT) annual meeting, Sept. 21–25 in San Diego ...
The use of invasive, pressure wire-based fractional flow reserve (FFR) in the cath lab is now considered the gold ...
August 29, 2018 — Philips announced that the European Society of Cardiology (ESC) has incorporated instantaneous wave ...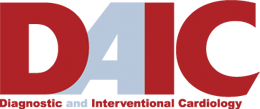 Subscribe Now