FFR Technologies
This channel includes news and new technology innovations for fractional flow reserve (FFR) wires, catheters and systems used to measure blood flow across a coronary lesion to determine if a stent is needed or if the plaque stenosis can be treated medically. The section includes iFR, instantaneous wave-free ratio, systems used in the cath lab and noninvasive FFR technologies including computed tomography-FFR. This is also referred to as CT-FFR or FFR-CT.
Here are the top 10 takeaways from the late-breaking studies on cardiovascular technologies presented at the 2021 Americ ...
May 17, 2021 — In patients who received a coronary stent for an ST-elevation myocardial infarction (STEMI) heart attack ...
December 16, 2020 – Acist Medical Systems Inc. announced a formal distribution partnership with Medis Medical Imaging to ...
Fractional flow reserve (FFR) is considered the gold standard measure whether a coronary lesions needs a percutaneous ...
October 23, 2020 – Results from the randomized controlled TARGET FFR trial show that while a physiology-guided ...
October 18, 2020 – Data from the COMBINE (OCT-FFR) study found that the use of FFR combined with OCT imaging can help ...
October 15, 2020 — The one-year results of the late-breaking DEFINE PCI study showed patients had improved outcomes and ...
The cardiology program at Tufts Medical Center in Boston is internationally recognized for being on the forefront of ...
August 18, 2020 — Philips Healthcare introduced its new OmniWire, the world's first solid core fractional flow reserve ...
July 9, 2020 – Acist Medical Systems Inc., a Bracco Group Company, announced the global launch of its Acist Navvus II ...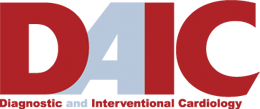 Subscribe Now