FFR Technologies
This channel includes news and new technology innovations for fractional flow reserve (FFR) wires, catheters and systems used to measure blood flow across a coronary lesion to determine if a stent is needed or if the plaque stenosis can be treated medically. The section includes iFR, instantaneous wave-free ratio, systems used in the cath lab and noninvasive FFR technologies including computed tomography-FFR. This is also referred to as CT-FFR or FFR-CT.
Interview with James Min, M.D., Professor of Radiology and Medicine and Director of Dalio Institute of Cardiovascular ...
July 10, 2015 - Opsens Inc. announced 510(k) clearance from the U.S. Food and Drug Administration (FDA) for the OptoWire ...
Key to ongoing U.S. healthcare reform are efforts to reduce costs by eliminating unnecessary medical procedures and ...
May 22, 2015 — St. Jude Medical Inc. announced new results from two clinical studies further supporting the use of its f ...
May 20, 2015 — Adding the HeartFlow FFRCT Analysis to a standard coronary computed tomography angiogram (cCTA) may ...
April 6, 2015 — Royal Philips announced that Volcano, a Philips business, has received CE Mark for the iFR Scout ...
February 5, 2015 — A new computer program allows doctors to assess blood flow as they are using flow-diverter devices to ...
January 7, 2015 — Volcano Corp. announced that more than 1,000 systems have been activated with its instant wave-Free ...
DAIC readers chose the following stories as the most popular content in 2014, based on website analytics. The list is ...
Feature | Jasvindar Singh, M.D., Washington University School of Medicine
Earlier this year, the Barnes-Jewish Hospital at Washington University School of Medicine in St. Louis adopted the ...
John Stevens, chairman and CEO of HeartFlow, explains his company's computed tomography (CT)-based fractional flow ...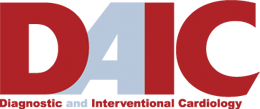 Subscribe Now