Heart Valve Technology
This channel includes news and new device innovations about heart valve technologies, including the aortic valve, mitral valve, pulmonic valve, and tricuspid valve. This includes information on transcatheter valve technologies like transcatheter aortic valve replacement (TAVR, or implantation TAVI), transcatheter mitral valve repair or replacement (TMVR), transcatheter and surgical valve repairs, and surgical replacement valves. Newer devices are now being used for transcatheter tricuspid valve repair replacement (TTVR). 
October 6, 2021 — Boston Scientific Corp. announced it entered into a definitive agreement to acquire Baylis Medical ...
Feature | BY Dave Fornell, DAIC Editor
October 6, 2021 — Here is the list of the most popular content on the Diagnostic and Interventional Cardiology (DAIC) ...
September 20, 2021 — Abbott announced that the U.S. Food and Drug Administration (FDA) has cleared the company's Portico ...
September 1, 2021 – The anticoagulant edoxaban (Savaysa) may be just as effective as warfarin for preventing heart ...
July 15, 2021 — Vivasure Medical announced its development program for PerQseal Blue, a sutureless and fully ...
July 8, 2021 – Xeltis announced it started the first pivotal trial for a synthetic polymer restorative pulmonary valve ...
June 29, 2021 – Cardiologists at Beaumont Health successfully replaced a 34-year-old woman's tricuspid valve in a rare ...
It is brutal and very expensive to bring a new transcatheter valve to market. Boston Scientific invested vast amounts of ...
June 7, 2021 — Edwards Lifesciences recently announced that clinical results from the company's transcatheter mitral and ...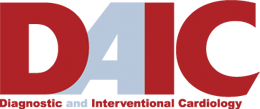 Subscribe Now