Heart Valve Technology
This channel includes news and new device innovations about heart valve technologies, including the aortic valve, mitral valve, pulmonic valve, and tricuspid valve. This includes information on transcatheter valve technologies like transcatheter aortic valve replacement (TAVR, or implantation TAVI), transcatheter mitral valve repair or replacement (TMVR), transcatheter and surgical valve repairs, and surgical replacement valves. Newer devices are now being used for transcatheter tricuspid valve repair replacement (TTVR). 
January 20, 2021 — The U.S. Centers for Medicare and Medicaid Services (CMS) revised its National Coverage Determination ...
January 11, 2021 — Medtronic has received a new expanded indication from Health Canada for its Evolut Transcatheter ...
December 29, 2020 — Edwards Lifesciences announced Dec. 21 that the first patient was treated in the RESTORE clinical ...
December 29, 2020 — Health Canada has approved the expanded use of the Edwards Lifesciences Sapien 3 and Sapien 3 Ultra ...
Here are the top 25 best performing articles on the Diagnostic and Interventional Cardiology (DAIC) website from 2020 ...
December 14, 2020 - Foldax Inc. today announced that the U.S. Food and Drug Administration (FDA) has granted an ...
December 1, 2020 — A recent publication demonstrated procedural efficiency for MitraClip transcatheter mitral valve ...
November 17, 2020 — Since the approval of the first transcatheter aortic valve replacement (TAVR) device in 2011, more ...
November 17, 2020 — Boston Scientific Corp. announced today it is immediately retiring the entire Lotus Edge ...
Here are some of the key takeaways from the late-breaking interventional cardiology and structural heart trials ...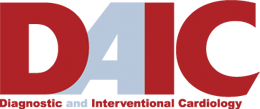 Subscribe Now