Heart Valve Technology
This channel includes news and new device innovations about heart valve technologies, including the aortic valve, mitral valve, pulmonic valve, and tricuspid valve. This includes information on transcatheter valve technologies like transcatheter aortic valve replacement (TAVR, or implantation TAVI), transcatheter mitral valve repair or replacement (TMVR), transcatheter and surgical valve repairs, and surgical replacement valves. Newer devices are now being used for transcatheter tricuspid valve repair replacement (TTVR). 
March 30, 2020 — Low-risk patients undergoing transcatheter aortic valve repair (TAVR) at two years did just as well ...
March 29, 2020 — Worse than expected outcomes were found for survival and quality of life among patients undergoing ...
March 29, 2020 — Patients with bicuspid, or two-leaflet, aortic valves who undergo transcatheter aortic valve ...
March 29, 2020 — Patients with atrial fibrillation (AF) who took oral anticoagulants alone after undergoing ...
March 25, 2020 — CroiValve announced the successful first human use of its Duo Tricuspid Coaptation Valve ...
In August 2019, the U.S. Food and Drug Administration (FDA) expanded the indication for the use of transcatheter aortic ...
News | Dave Fornell, Editor
February 3, 2020 — Here is the list of the most popular content on the Diagnostic and Interventional Cardiology (DAIC) m ...
January 31, 2020 — A new study from the Smidt Heart Institute at Cedars-Sinai and other centers nationwide shows that ...
January 30, 2020 — The Abbott Tendyne Transcatheter Mitral Valve Implantation (TMVI) system received European CE mark ...
The key question I am always asked at cardiology conferences is what are the trends and interesting new technologies I ...
January 20, 2020 — Research has found that repairing the mitral valve earlier, before the mitral valve prolapse ...
January 13, 2020 — The U.S. Food and Drug Administration (FDA) has approved clinical trial that will compare the ...
Here are the top performing 25 videos posted to the DAIC website in the past year, based on Google Analytics. These the ...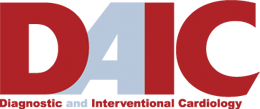 Subscribe Now