Left Atrial Appendage (LAA) Occluders
This channel includes news and new technology innovations about Left Atrial Appendage (LAA) Occluders. These close off the LAA in patients with atrial fibrillation to prevent the formation of stroke-causing clots in atrial fibrillation (AFib or AF) patients. LAA occlusion is often indicated for patients who do not tolerate anticoagulation therpy or have bleeding risks associated with use of that therapy.
March 13, 2015 — AtriCure Inc. announced the first two patients in the Dual Epicardial and Endocardial Procedure (DEEP) ...
As editor of DAIC, I keep a close watch on trends in cardiovascular technology and try to predict what the next big ...
October 13, 2014 — After reviewing updated data and analysis for the Boston Scientific Watchman left atrial appendage ...
September 26, 2014 — AtriCure Inc. announced the introduction of the AtriClip Flex, a new device with a more flexible ...
March 24, 2014 – Doctors at the Stony Brook Heart Institute Electrophysiology Lab are using a new nonsurgical technique ...
December 12, 2013 — The U.S. Food and Drug Administration (FDA) Circulatory System Devices Panel of the Medical Devices ...
November 19, 2013 — AtriCure Inc., a developer of solutions to treat atrial fibrillation, announced the U.S. Food and ...
November 11, 2013 — The U.S. Food and Drug Administration (FDA) announced a Class I recall of Baylis Medical's TorFlex ...
By Dave Fornell, DAIC editor
The Cardiovascular Research Foundation's Transcatheter Cardiovascular Therapeutics (TCT) ...
November 8, 2013 – According to Millennium Research Group (MRG), the anticipated Food and Drug Administration (FDA) ...
Herbert Aronow, M.D., MPH, St. Joseph Mercy Hospital, Ann Arbor, and an active member of ACC and SCAI, explains the top ...
July 15, 2013 — Shore University Medical Center is one of only a handful of hospitals in the country offering the recent ...
The field of interventional cardiology is one of constant change and innovation. The past 10 years have documented ...
June 28, 2013 — Maquet Cardiovascular LLC announced it has acquired LAAx Inc., a privately held company that has ...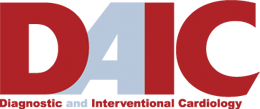 Subscribe Now