John Stevens, chairman and CEO of HeartFlow, explains his company's computed tomography (CT)-based fractional flow ...
DAIC Editor Dave Fornell offers his choices of the most innovative new cardiovascular technologies discussed in sessions ...
Scott Lim, M.D., director of the Heart Valve Center at the University of Virginia Medical Center, investigator in the ...
Herbert Aronow, M.D., MPH, St. Joseph Mercy Hospital, Ann Arbor, and an active member of ACC and SCAI, explains the top ...
One-year results from the ADAPT-DES Trial were presented during TCT 2012. It examined patient hyporesponsiveness to ...
The PC Trial data presented at TCT 2012 looked at transcather PFO closure vs. medical therapy in preventing cryptogenic ...
The results of the FAME II Trial were presented at the 2012 Transcatheter Cardiovascular Therapeutics (TCT) meeting. The ...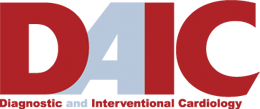 Subscribe Now