Intravascular Imaging
This channel includes news and new technology innovations for intra-vascular ultrasound (IVUS) and optical coherence tomography (OCT) imaging systems used in the cath lab. These imaging modalities help with diagnostic decisions about how to treat atheroscolosis and help guide device placement and verification of stent apposition. The technology also is used to visualize in-stent restenosis.
August 5, 2021 — The U.S. Food and Drug Administration (FDA) has cleared clearance Abbott's latest optical coherence ...
May 12, 2021 — Abbott recently announced its new interventional imaging platform powered by Ultreon 1.0 Software, has ...
February 16, 2021 – SpectraWave Inc. announced a $13.2 million series A-2 financing to support completion of product ...
November 17, 2020 — Diagnostic imaging techniques were able to find the underlying cause of heart attack in many women ...
Fractional flow reserve (FFR) is considered the gold standard measure whether a coronary lesions needs a percutaneous ...
October 18, 2020 – Data from the COMBINE (OCT-FFR) study found that the use of FFR combined with OCT imaging can help ...
October 1, 2020 — A team of researchers led by the University of Adelaide and University of Stuttgart has used 3-D micro ...
September 14, 2020 — Avinger received U.S. Food and Drug Administration (FDA) 510(k) clearance from the FDA for its ...
June 26, 2020 — Abbott announced new data from the company's LightLab Initiative that showed optical coherence ...
October 2, 2019 — Philips Healthcare is utilizing Level Ex's video game app design expertise to train interventional ...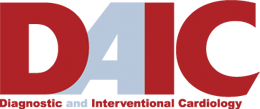 Subscribe Now