Intravascular Imaging
This channel includes news and new technology innovations for intra-vascular ultrasound (IVUS) and optical coherence tomography (OCT) imaging systems used in the cath lab. These imaging modalities help with diagnostic decisions about how to treat atheroscolosis and help guide device placement and verification of stent apposition. The technology also is used to visualize in-stent restenosis.
September 27, 2016 — Avinger Inc. recently announced the company has received an FSS Contract Award from the U.S ...
August 22, 2016 — Avinger Inc. recently announced the closing of its previously announced public offering of 9,857,800 ...
Some have labeled bioresorbable scaffolds (BRS), also known as bioresorbable stents, as the fourth evolution of ...
While angiographic X-ray fluoroscopy systems are the workhorse for transcatheter cardiovascular interventional ...
May 12, 2016 — Collaboration between two National Institute of Biomedical Imaging and Bioengineering (NIBIB)-funded labs ...
DAIC readers chose the following stories as the most popular content in 2015, based on website analytics. The list is ...
March 3, 2016 — Avinger Inc. announced the company has received 510(k) clearance from the U.S. Food and Drug ...
February 29, 2016 — Philips announced that new clinical trial data demonstrates the benefits of its intravascular ...
February 8, 2016 — St. Jude Medical Inc. announced the launch of the company's Optis Mobile System in Japan and Europe ...
DAIC Editor Dave Fornell offers his choices for the most innovative new interventional cardiovascular technologies ...
Tom Watson, clinical analyst for MDBuyLine, and DAIC Editor Dave Fornell discuss some of the new cardiovascular and ...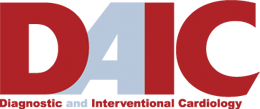 Subscribe Now