Intravascular Imaging
This channel includes news and new technology innovations for intra-vascular ultrasound (IVUS) and optical coherence tomography (OCT) imaging systems used in the cath lab. These imaging modalities help with diagnostic decisions about how to treat atheroscolosis and help guide device placement and verification of stent apposition. The technology also is used to visualize in-stent restenosis.
September, 11, 2015 – Japanese medical vendor Nipro Corp. signed a definitive agreement to acquire Infraredx Inc., maker ...
September 1, 2015 — Based on its recent analysis of the cardiovascular image management market, Frost & Sullivan ...
August 3, 2015 — Pie Medical Imaging announced the release of CAAS IntraVascular 2.0, the dedicated software for ...
July 9, 2015 - St. Jude Medical, Inc. announced the launch of the ILUMIEN III clinical trial on June 30. ILUMIEN III is ...
Angiography alone for procedural image guidance in the catheterization lab is sometimes not enough, and it is helpful to ...
May 26, 2015 — St. Jude Medical Inc. announced preliminary results from the ILUMIEN I trial and final results from the ...
April 28, 2015 — Infraredx Inc. announced the enrollment of 1,000 patients in the Lipid-Rich Plaque (LRP) Study. The LRP ...
DAIC Editor Dave Fornell shares his picks of the most interesting new devices and advances in cardiovascular technology ...
March 13, 2015 — Infraredx announced it will premiere the Advanced TVC Imaging System and the Muller NIRS-IVUS Catheter ...
February 26, 2015 — Approximately 8 to 12 million people in the United States alone are suffering from peripheral ...
December 9, 2014 — A study published in the Journal of the American College of Cardiology (JACC) shows intravascular ...
October 27, 2014 – Infraredx Inc. today announced that it has entered into an agreement with HealthTrust, a group ...
October 14, 2014 — Infraredx Inc. announced that its dual-modality intravascular imaging technology, TVC Imaging System ...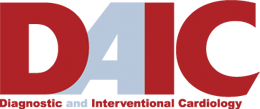 Subscribe Now