Peripheral Artery Disease (PAD)
This channel includes news, interventions, and new technology innovations for peripheral artery diease, PAD and critical limb ischemia. 
In recent years, there has been a lot of focus by vendors on developing better stenting technologies to treat peripheral ...
January 28, 2019 — Philips announced the latest pooled analysis of patient-level data of over 2,300 patients treated ...
The anti-proliferative drug paclitaxel has been used as a coating on coronary stents to prevent restenosis since 2003 ...
January 25, 2019 — Profusa announced promising clinical data from two studies evaluating the company's Lumee Oxygen ...
January 17, 2019 — The U.S. Food and Drug Administration (FDA) issued a letter Jan. 17, 2019, to healthcare providers ...
December 19, 2018 — A new set of appropriate use criteria (AUC) released Dec. 17 by a group of cardiovascular ...
December 18, 2018 — Merit Medical Systems Inc. announced that it has acquired substantially all of the assets of ...
December 14, 2018 – Shockwave Medical announced a new investment and collaboration agreement with Abiomed Inc. As ...
December 4, 2018 — New results from the DISRUPT PAD II study showed no perforations, embolization, reflow or abrupt ...
November 9, 2018 — VentureMed Group Inc. announced the initiation of a new study to determine if the Flex Dynamic ...
November 7, 2018 — The Lutonix Drug-Coated Balloon (DCB) showed statistically significant safety equivalence with a ...
October 5, 2018 — Veryan Medical Ltd has received Premarket Approval (PMA) for the BioMimics 3D Vascular Stent System ...
October 1, 2018 — Boston Scientific announced that the U.S. Food and Drug Administration (FDA) has approved its ...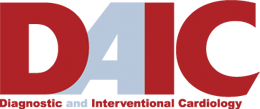 Subscribe Now